RAY BLUTH
Bowling
Position: Bowler
Born: December 31, 1927; St. Louis, Missouri
Played For: St. Louis Budweisers

Ray Bluth's intense concentration, especially in developing a delivery of near mathematical perfection, made him one of the most consistent top performers for more than 15 years. Bluth, who owns two USBC Open Championship titles, rolled the first 300 game in the Masters finals in 1962. His 806 for the first three games of that series was a Masters record that stood for 24 years and came three years after he won the event.
He was instrumental in getting beer giant Anheuser-Busch in St. Louis to sponsor the Budweiser team that some call the greatest ever in bowling's illustrious history. That team consisted of Hall of Famers Don Carter, Pat Patterson, Tom Hennessey, Dick Weber and Bluth. This was the team that helped anchor the Professional Bowler's Association, which is still viable today.
The "Buds" won five national bowling team match game championships and on March 12, 1958, the Budweiser team rolled an ABC record 3,858 series in Masters League play in north St. Louis. The mark broke the previous record by 61 pins set in 1937 by another St. Louis team, the Hermann Undertakers. The 3,858 total averaged out to more than 771 pins per man, or 257 per game for 15 games. It was a record that stood for an incredible 35 years and 11 months before it was broken.
Bluth, rolling 33 of a possible 36 strikes, led the way with an 834 series. He had spares in the eighth and ninth frames of the first game and then reeled off 11 consecutive strikes before leaving the 8-10 pins standing in the ninth frame of his second game. He finished the night with 15 straight strikes, bowling a perfect 300 in the final game after a pair of 267's.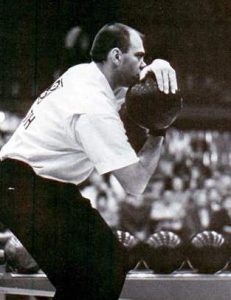 Bluth and partner Dick Weber also won four National Doubles championships and finished second twice and third three times. Ray won the 1959 Masters in St. Louis and was runner up in 1956. He was the first bowler to score a 300 and 800 series in the Masters. He also held the four-game record of 1,051.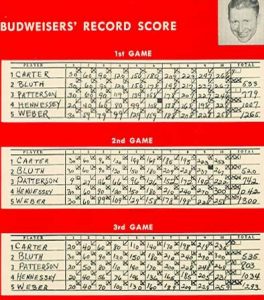 Bluth captured two PBA tournaments, bowled two 800 series and two 300 games on live television. He won two St. Louis City Match Game championships and two Missouri State Match Game titles. He was a three-time PBA champion and a USBC Masters titlist. Ray served two years as PBA President and four years as secretary. He served as the First and Second Vice President for four years and served as Regional Director for two years. He also was a member of the Tournament Committee for eight years and the Executive Board for 15 years. In addition, he was also the president of the St. Louis Bowling Proprietors Association. He is a member of the PBA, ABC, Missouri State and St. Louis Bowling Halls of Fame.