JIM EDMONDS
Baseball
Born: June 27, 1970, Fullerton, California
Position: Center Field
Played For: St. Louis Cardinals (2000-2007), California Angels (1993-1999), San Diego Padres (2008), Chicago Cubs (2008), Milwaukee Brewers (2010), Cincinnati Reds (2010)

Rated as perhaps the finest center fielder ever to wear the Birds on Bat, Jim Edmonds brought many thrills to Busch Stadium both with his bat and fielding excellence. "Jimmy Baseball," as he is affectionately known to Cardinals' fans, played for eight seasons in St. Louis and earned Gold Gloves for fielding excellence in eight of nine seasons, from 1997 to 2005. He was also a four time All-Star performer.
The 2004 season was Edmonds' finest all-round season. That season he established career highs with a .643 slugging percentage, 42 home runs, and 111 RBIs, while batting .301. As a result, he earned a Silver Slugger Award, a Gold Glove Award, and was fifth in the voting for the National League's Most Valuable Player Award.
Cardinals' fans might say the most defining moment of his career came in the 2004 National League Championship Series, when Edmonds hit an extra-inning home run to win Game 6. In Game 7, Edmonds made a spectacular defensive play in center, helping the Cardinals win the pennant.
In 2000, Edmonds set the Cardinals team record for home runs by an outfielder with 42. A year later, Edmonds hit .336 with runners in scoring position. Edmonds, along with Albert Pujols and Scott Rolen, earned the nickname "MV3" for their phenomenal 2000 seasons. Edmonds was on the cover of video game MLB Slugfest 2004.
Edmonds' career spanned 17 Major League seasons for six clubs but is best remembered for his eight outstanding years in St. Louis. He had a reputation that outstripped even his considerable ability, as he made highlight reels regul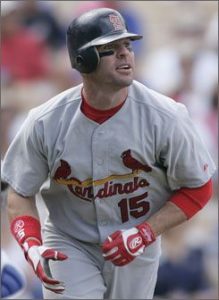 arly for both spectacular defensive plays and big hits at critical moments. Late in his career, Edmonds was hampered by post-concussion syndrome and an injury to his left Achilles tendon that led to his eventual retirement. Edmonds finished his career with 393 home runs in 2,011 Major League games with the Angels, Cardinals, Padres, Cubs, Brewers and Reds. He hit .284 with a .376 on-base percentage, .527 slugging percentage, 1,949 hits, 998 walks and 1,251 runs scored.
"It was an unbelievable career," said Cardinals general manager John Mozeliak. "He was just a great personality with tremendous baseball talent. He could fill a highlight reel. The impact he had during his tenure here (with the Cardinals) was that we won a lot of baseball games. He was a key part of that, and I think his legacy with the St. Louis Cardinals will be in line when you think about historic names."
Edmonds' career began in 1993 with the California Angels where he became known as a slick-fielding, but relatively light-hitting, center fielder. That changedin 1995 when he ripped 33 homers. He was an accomplished but somewhat inconsistent performer in Anaheim, and during spring training in 2000, he was traded to the Cardinals. As soon as he arrived in the National League, his career took off. In eight years as a Cardinal, he put up a .285/.393/.555 line (batting average, on-base percentage and slugging percentage) and hit 241 homers.
He made perhaps the two biggest plays of the classic 2004 NL Championship Series, helping St. Louis to its first pennant in 17 years. In addition, he hit a walk-off home run in the 12th inning of Game 6 of that series, forcing a seventh game at Busch Stadium. Then, in the second inning of Game 7, he made a spectacular diving catch of a Brad Ausmus line drive, keeping the Cardinals within one in a game they would later come back to win come back to win. Two years later Edmonds began a custom of awarding a game ball after each Cardinals postseason win, taking elder-statesman status on a team that went on to win the 2006 World Series against Detroit.
Jim donated $1 million of his salary to create a brand new baseball field in an urban area of St. Louis. The Forest Park neighborhood facility is named Jim Edmonds Field.