LAWRENCE "YOGI" BERRA
Baseball
Position: Catcher
Born: May 12, 1925, St. Louis, Missouri
Died: September 22, 2015, Montclair, New Jersey
Played For: New York Yankees (1946-1963), New York Mets (1965)

Lawrence Peter "Yogi" Berra played almost his entire career for the New York Yankees and was elected to the Baseball Hall of Fame in 1972. He was one of only four players to be named the Most Valuable Player of the American League three times and one of only six managers to lead both American and National League teams to the World Series.
Berra was born in the Italian neighborhood of St. Louis called "The Hill" to Italian immigrants. He grew up on Elizabeth Avenue, across the street from friend Joe Garagiola; that block, later also home to the late baseball broadcaster Jack Buck, was later renamed "Hall of Fame Place." Berra and Garagiola both attended South Side Catholic, now called St. Mary's High School. Berra has a star on into the St. Louis Walk of Fame. Berra, who quit school in the eighth grade, has a tendency toward malapropism and fracturing the English language in highly provocative, interesting ways. Simultaneously denying and confirming his reputation, Berra once stated, "I really didn't say everything I said."
An outstanding American Legion catcher, the Yankees signed Berra for a $500 bonus in 1942. Berra was assigned to the Norfolk Tars of the Class B Piedmont League, where he once drove in 23 runs in a doubleheader. Following a stint in the U.S. Navy during World War II, Berra was called up for seven games in the major leagues. The next season he played 86 games for the Yankees, and would play more than a 100 in each of the next 14 years.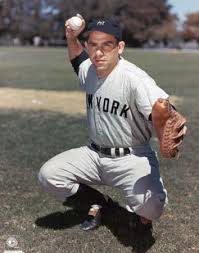 Berra appeared in 14 World Series, winning 10 titles, both of which are records. Because Berra's playing career coincided with the Yankees' most consistent period, it enabled him to establish major league records for World Series games (75), at-bats (259), hits (71), doubles (10), singles (49), games caught (63), and catcher putouts (457). In Game 3 of the 1947 World Series, Berra hit the first pinch-hit home run in World Series history.
Berra, whose No. 8 was retired by the Yankees in 1972, was a 15-time All-Star and won the league's MVP award in 1951, 1954 and 1955, never finishing lower than fourth in the voting from 1950-57. He received MVP votes in 15 consecutive seasons. Between 1949 and 1955, on a team filled with stars such as Mickey Mantle and Joe DiMaggio, it was Berra who led the Yankees in RBI for seven consecutive seasons. Five times, Berra had more home runs in a season than strikeouts. In 1950, Berra struck out 12 times in 597 at-bats.
Berra was outstanding in the field. Quick, mobile, and a great handler of pitchers, he led all A.L. catchers eight times in games caught and in chances accepted, six times in double plays (a major league record), eight times in putouts, three times in assists and once in fielding percentage. Berra left the game with the AL records for catcher putouts (8,723) and chances accepted (9,520). In 1958, he became one of only four catchers to ever field 1.000 for a season. One of the most notable days of Berra's career came when he caught Don Larsen's perfect game in the 1956 World Series, the only no-hitter ever thrown in postseason play.
After Berra's Yankee playing career ended with the 1963 World Series, he was hired as the manager of the New York Yankees. His Yankees rode a September surge to return to the World Series in 1964, but the team lost to the St. Louis Cardinals in seven games. Berra made a brief return to the field as a player-coach for the crosstown Mets, playing in just four games. Berra stayed with the Mets as a coach for the next eight seasons, including their 1969 World Championship season. He became the team's manager in 1972. In 1999, Berra appeared at No. 40 on The Sporting News' list of the 100 Greatest Baseball Players, and fan balloting elected him to the Major League Baseball All-Century Team.