WASHINGTON UNIVERSITY
WOMEN'S BASKETBALL
"CHAMPIONS AWARD"
After nine years, nine straight trips to the NCAA Tournament and two setbacks in the national championship game, Washington University in St. Louis women's basketball team returned to the pinnacle of NCAA Division III women's basketball last season. The team captured the program's fifth national championship with a 65-59 victory over fourth-ranked Hope College on March 20, 2010, in Bloomington, Ill. Washington University has won an NCAA Division III-record five national championships, including a st
ring of four-straight titles between 1998 and 2001. The Bears have earned a record 21 straight NCAA Tournament appearances and have reached the Final Four nine times.
"Once you are fortunate enough to experience a championship, and then to wait nine years for another, you realize how hard, how special, how much you have to have a little luck, how fortunate you are to have that magical chemistry," said Nancy Fahey, head women's basketball coach at Washington University. After leading the Bears to a 29-2 record in 2009-10 and guiding her team to a national title, Fahey was honored as the DIII Hoops.com and DIII News National Coach of the Year. She also posted a 13-1 record in University Athletic Association (UAA) play to capture her record 19th conference championship, earning UAA Coaching Staff of the Year honors in the process.
The 29 wins in 2009 were the most for Washington University since it posted back-to-back 30-0 seasons during the 1998-99 and 1999-2000 national championship runs. With a 571-100 overall record in 24 seasons on the Danforth Campus, Fahey ranks fourth in NCAA history with an amazing .851 winning percentage.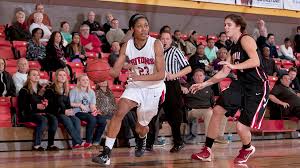 Graduate student Jaimie McFarlin and senior Zoe Unruh were named to the NCAA Championship All-Tournament Team, with McFarlin also earning NCAA Final Four Most Outstanding Player accolades. McFarlin scored 14 points with a season-high 15 rebounds in the championship win, while Unruh tallied 13 points. Just a day before, the Bears erased a 12-point second-half deficit to defeat top-ranked Amherst College 86-75 in overtime with McFarlin and Unruh each scoring 19 points.
Washington University was led by a balanced attack the entire season with five players averaging between 8.8 and 12.3 points per game. In addition to McFarlin and Unruh, senior Janice Evans (10.1 ppg), junior guard Alex Hoover (8.9 ppg) and junior forward Kathryn Berger (8.8 ppg) also made substantial contributions. For her efforts, Evans was named a Women's Basketball Coaches Association (WBCA) honorable mention All-American and a DIII News third-team All-America honoree. McFarlin, Unruh and Hoover earned first-team all-UAA honors while Evans was named second-team all-conference and Berger received honorable mention all-UAA.