Tommy Herr
Baseball
Born: April 4, 1956; Lancaster, PA
Position: Second Base
Played For: St. Louis Cardinals (1979-1988), Twins (1988), Phillies (1989-1990), Mets (1990-1991), Giants (1991)

Quick now. Who was the first – and only National League – player in the Major Leagues to record more than 100 RBIs with less than 10 home runs? If you answered Tommy Herr, your knowledge of St. Louis Cardinals baseball is excellent.
During the 1985 World Series championship bound Cardinals, the second baseman produced at a record MLB clip. Herr set career highs in nearly every statistical category in 1985, including that amazing 110 RBIs on only eight home runs performance. Herr remains the last NL player to drive in 100 or more runs in a season while hitting fewer than 10 home runs. Paul Molitor is the most recent AL and MLB player to drive in 100 or more runs in a season while hitting fewer than 10 home runs (9 home runs, 113 RBIs in 1996).
During Tommy Herr's stay with the Cardinals in the '80s, the Redbirds were a high-flying, excellent base-stealing, great defensive team in the Whitey Herzog era known as "Whitey-ball." Herr played in the 1982, 1985, and 1987 World Series – all with the Cardinals, finishing fifth in the MVP voting and making his only appearance in the All-Star Game in 1985. During that 1985 World championship season, Herr had a .302 batting average, had 180 hits, 38 doubles, 13 triples and 31 stolen bases.
In a 13-season career, which included stints with the New York Mets, Philadelphia, and Minnesota, he batted .271 with 28 home runs and 574 RBIs in 1514 games. He had 1450 career hits in 5349 at bats. An excellent second baseman, Herr recorded a career .989 fielding percentage.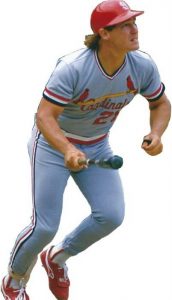 One of his most-remembered feats with the Cardinals, however, came with his bat when he blasted a walk-off grand slam in extra innings against the New York Mets on April 18, 1987. After Herr hit the grand slam many fans at Busch Stadium threw their stadium giveaway seat cushions onto the field in celebration. The grand slam is also well known for Jack Buck's memorable call on KMOX radio when he said, "Looks like we're having seat cushion night again tomorrow night!"
Tommy and his wife Kim, raised two sons. Herr's oldest son, Aaron, was drafted by the Atlanta Braves in the first round during the 2001 season. He played the 2005 season with the Springfield Cardinals, the Double-A affiliate of the St. Louis Cardinals. Jordan Herr played for the Lancaster Barnstormers for the 2008 season. At the conclusion of the season, the Chicago White Sox signed him to their Rookie-level affiliate.
In 2004, Tommy was hired as the first manager of his hometown Barnstormers, a team in the independent Atlantic League of Professional Baseball, and led the team to the 2006 Atlantic League championship. His success in Lancaster piqued the interest of the Washington Nationals, resulting in a managerial position with the Single-A Hagerstown Suns for the 2007 season.