THE MISSOURI VALLEY CONFERENCE
PRESIDENT'S CHOICE AWARD
The Missouri Valley Conference has had a close connection to St. Louis ever since the league was formed 105 years ago. As the nation's second oldest NCAA Division I conference (the oldest is the Big Ten), the MVC included Washington University as one of its charter members in 1907 and later added St. Louis University, which was a member for 36 years from 1937 to 1943 and 1944 to 1974.
Today, the conference office is based in St. Louis, having relocated from Tulsa in 1985. St. Louis was a natural choice as site for the league headquarters, serving as a central hub for the MVC's 10-member institutions located in a six-state region. The member schools are: Bradley, Creighton, Drake, Evansville, Illinois State, Indiana St., Missouri State, Northern Iowa, Southern Illinois-Carbondale and Wichita St.
During the 27 years the league has been in St. Louis, the MVC has played a major role in the return of NCAA Division I basketball tournaments to t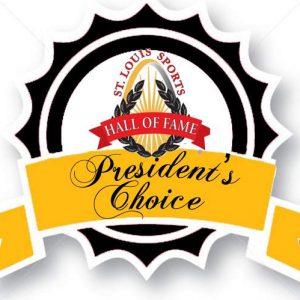 he city. First, the MVC brought its postseason basketball tournament to St. Louis in 1991 and named it "Arch Madness." The Missouri Valley made history in March 2007 with a record tournament attendance of 85,074 fans that included two sellouts of 22,612 each for the semifinals and championship game. The record crowds are the largest in Scottrade Center history for basketball, and the championship game attendance was the largest for any conference tournament title game in the country that year.
Following the success of its men's tournament, the MVC brought the league's women's tournament to nearby St. Charles where it has remained since 2008. After a nine-year hiatus, the Valley brought NCAA tournament basketball back to St. Louis in 1993 with the NCAA Midwest Regional. That was the first of eight men's NCAA tournaments hosted by the MVC. Included in that run was the 2005 NCAA Final Four, marking the first time St. Louis had served as a host for the national championship in basketball since two Final Fours in the 70's (1973 and 1978).
The MVC was also responsible for hosting two women's NCAA Final Fours in 2001 and 2009. The architect for tournament basketball renaissance in St. Louis for the last 24 years is MVC Commissioner Doug Elgin, who joined the conference in 1988 and is the longest-tenured commissioner in league history. His leadership has kept St. Louis on the map for NCAA basketball and enabled the MVC – and its men's post-season Arch Madness tournament – to be ranked among the top 10 conferences in the country.