STEVE PECHER
Soccer
Born: February 13, 1956; St. Louis, Missouri
Position: Defender
Played For: Dallas Tornados (1976-80), St. Louis Steamers (1979-1984; 1985-87)), Kansas City Comets (1984-85), Los Angeles Lazers (1987-88)

In the course of one year, Steve Pecher played his last season at Florissant Valley Community College in the fall of 1975, then became a starting defender with the Dallas Tornado in the North American Soccer League. By 1976, he won the NASL's rookie of the year award. He spent four years in the NASL, while also making 17 appearances for the U.S. Men's National Team. He eventually was the captain of the National Team.
His prime, however, was indoors mostly with the St. Louis Steamers, where he was their captain. Known as a "rugged" defender in Dave Lange's book, "Soccer Made in St. Louis," Pecher said: "I always tell people when I put a uniform on it was like Dr. Jekyll and Mr. Hyde. I never went on the field to lose the game. I would do whatever I could in the legal limits to win a game.
"I played physical soccer. I came to every game to play 100 percent. I was never the most skillful player. But I felt I could read a game very well. I was almost a step ahead of what was going on. I could see things other people couldn't see."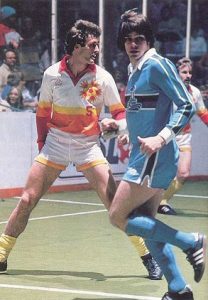 Pecher, a St. Louis native, attended Normandy High School, where he won a soccer state championship in 1974 and was named an All-American. The following year, his Florissant Valley Community College team won the NJCAA National Championship, and he was named to the NJCAA All-American team.
Pecher then went on to play for three different teams, the St. Louis Steamers, the Kansas City Comets, and the Los Angeles Lazers, in the Major Indoor Soccer League.
In addition to his successful playing career, Steve also has had a long coaching career. He coached for 20 years at Busch Soccer Club before the club merged with Scott Gallagher and Metro to form St. Louis Scott Gallagher. Pecher has a United States Soccer Federation "D" coaching license.