JACK CLARK
"STAR OF THE GAME AWARD"
If not for a series of injuries, Jack Clark might have been known as one of baseball's all-time leading power hitters. A menacing man with a bat in his hands when he was healthy, Clark was one of the most feared hitters in the game. Clark hit at least 20 home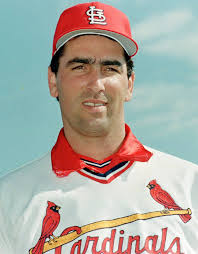 rs for five different teams spanning 11 seasons. In 1987, he was the most prolific presence for the St. Louis Cardinals. That year, Clark hit 35 homers and had 106 RBI's despite being pitched around more than anyone else in the game.
St. Louis fans will never forget his dramatic ninth-inning three-run homer off Tom Niedenfuer that clinched the Cardinals' 1985 National League Championship Series victory over the Los Angeles Dodgers. But Clark, slowed by a series of back injuries, bounced around late in his career, playing for three different teams in his last five years. He retired with 340 homers.
Jack Clark was born November 10, 1955 in New Brighton, Pennsylvania. In his first 13 seasons in the National League, the man who became known as "Jack the Ripper," appeared in 140 or more games only three times due to injuries. However, from the time he became a regular in 1977, he had slugging percentages over .400 every year and five times slugged better than .500, including a league-leading .597 in 1987.
While with the Cardinals in '87 he led the National League with walks (136) and home run percentage. Clark smashed 35 round-trippers with 106 RBI and 93 runs-scored before an ankle injury ended his season in early September. His inactivity probably cost him the MVP and the Cardinals the World Championship. St. Louis lost to Minnesota in seven gam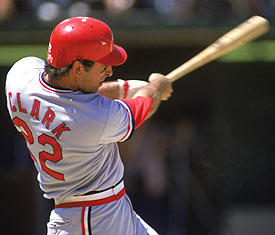 es. Clark came to St. Louis from San Francisco in a trade prior to the 1985 season. Clark, who began his career as a right fielder, had made clear his wishes to escape both the Giants and Candlestick Park, a notoriously bad venue for power hitters because of the gusty wind coming off of San Francisco Bay. During nine seasons with the Giants, Clark established himself as a superb clutch hitter, leading the league with 18 game-winning RBI's in 1980 and tying for the lead with 21 in 1982. He led National League outfielders in assists in 1981.
After his career 1987 season, Clark left the Cardinals after a contract dispute and signed as a free agent with the New York Yankees despite the presence of first baseman Don Mattingly. He hit .242 that year, his lowest average in a full season, and had 93 RBI, mostly as a designated hitter. The next year, Clark was traded by the Yankees to San Diego for three players. From 1975 through 1992, Clark played for the Giants (1975-84), Cardinals (1985-87), Yankees (1988), Padres (1989-90) and Boston Red Sox (1991-92).
Clark retired at the end of the 1992 season. In an 18-season career, he batted .267 with 340 home runs and 1,180 RBI in 1,994 games. He also scored 1,118 runs, smacked 332 doubles, stole 77 bases and collected 1,826 hits in 6,847 career at-bats. A four-time All-Star, Clark also won the Silver Slugger Award in 1985 and 1987.
In San Francisco, Clark was more than just a slugger. He had a rocket arm in right field and as a member of the Giants, he was voted the first winner of the "Willie Mac Award" for his spirit and leadership. Throughout his career, his aggressive style won the favor of the fans, especially with the sold out crowds drawn by the Cardinals. He remains today one of the most popular Cardinals residing in the metro area.