RUSTY LISCH
Football
Position: Quarterback
Born: December 26, 1956; Belleville, Illinois
Played For: St. Louis Cardinals (1980-1983), Chicago Bears (1984)

Russell John "Rusty" Lisch, the pride of Belleville West High School, was part of Dan Devine's first recruiting class at the University of Notre Dame in 1975. The quarterback was taken by the then-St. Louis Football Cardinals, in the fourth round of the NFL draft. He played with the Big Red from 1980-1983 and then for the Chicago Bears in 1984.
At Notre Dame, Lisch made his first start in place of injured Rick Slager in 1976, recording a 40-27 victory against Miami. He started the first three games of 1977 but then would yield the starting job when Devine installed Joe Montan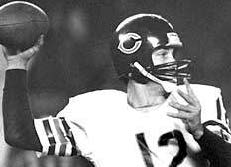 a at quarterback. Lisch was named the permanent starting QB of the Fighting Irish as a fifth-year senior in 1979, winning seven of 10 starts, highlighted by his 336-yard passing effort as the Irish rallied from a 17-3 deficit against South Carolina for an 18-17 victory.
"It's not so much being in awe of the huge surroundings back then professionally or at college," says Lisch, one of the best athletes ever to come from the Metro-East area. "We didn't live in a sports dorm at Notre Dame, so getting to mingle with the students and getting their perspective of our game is what was important. "I guess it's like any other profession, though. I remember the goofy things and the characters and friendships I made along the way."
After his playing days, Lisch returned to his roots, working at an architectural firm and teaching at Belleville East HS. He and his wife, Cathy, are just as proud watching their four children perform on the court. Kevin, played at St. Louis University and professionally in Spain and Australia; Theresa was named Ms. Basketball of Illinois in 2006; Stephanie, who still ranks as one of the all-time Illinois high school scoring leaders, played at Indiana State; and Daniel played at both St. Louis U. and Fontbonne University.