RON ZETCHER
OFFICIAL
Born: January 12, 1940; St. Louis, Missouri
Honors: Greater St. Louis Amateur Baseball Hall of Fame (1997), St. Louis Jewish Sports Hall of Fame (1997), Missouri Sports Hall of Fame (2007), received Ellis Veech Award for Excellence in Officiating by the St. Louis Chapter of the Baseball Writers of America in 1995 and the Terry Francke Award, inducted into the Missouri State Show Me Games Hall Of Honor in 2008 and the MIAA Hall of Fame in 2011
Ron Zetcher was one of the top basketball officials in the area, rising as an official from high school to college and the professional ranks. For his efforts, Zetch (as he is known) has been selected to numerous halls of fame.
A 1957 graduate of University City High School, Zetch was named as the most outstanding athlete his senior year, earning multiple letters in basketball and baseball. After a stint in the U.S. Coast Guard reserve, he went to the University of Missouri before transferring to Washington University where he was a three-year letterman in baseball.
He taught at various schools until settling down as a physical education teacher and coach of freshman football and basketball at East Ladue Junior High School. When he retired from the classroom in 1997 he continued to coach the freshman football team, ending his highly successful career with an undefeated team. In fact, four of his last five teams went undefeated.
Zetch began officiating in 1968 high school baseball, basketball and football. In 1975, 1976, and 1977 he officiated the Missouri large schools state title basketball game and the Missouri state football championship game. Included in his high school officiating resume were multiple state championship baseball finals. He also umpired five American Legion World Series, acting as the crew chief in four.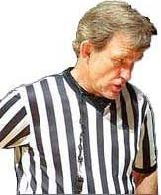 Ron's college officiating career started as a baseball umpire in the Missouri Valley Conference tournament. He also umpired in the Big Eight and Metro Conference. Zetch worked as a back judge in Missouri Valley Conference football. He officiated football, basketball and baseball at Florida State University, SIU-Carbondale, Indiana State, Wichita State, and Illinois State.
Zetcher said his greatest officiating success was in collegiate basketball, first in the Missouri Intercollegiate Athletics Association. After a tenure in the short-lived professional American Basketball Association, he officiated in the Big Eight Conference from 1975-76 until retiring after the 2005-06 season. Zetcher also officiated in the Big Ten, Big Eight, Missouri Valley, Big 12, Metro, Southwest, Great Midwest, Conference USA, Western Athletic,
Mountain West, Sun Belt, Southland, Mid Continent and the AMCU conferences, working league championship tournaments in most of them. He also officiated multiple NCAA and NIT tournaments.
He was inducted into both the Greater St. Louis Amateur Baseball Hall Of Fame and the St. Louis Jewish Sports Hall Of Fame in 1997. He was inducted into the Missouri Sports Hall Of Fame in 2007. He received the prestigious Ellis Veech Award for Excellence in Officiating by the St. Louis Chapter of the Baseball Writers of America in 1995 and the Terry Francke Award, presented by the Missouri Basketball Coaches Association for Contributions to Basketball in the state of Missouri in 2006. He was inducted into the Missouri State Show Me Games Hall Of Honor in 2008 and the MIAA Hall of Fame in 2011.
Ladue High School has established the Ron Zetcher Freshman Football Award, which is presented annually to the freshman football player who best demonstrates academic excellence, team leadership, and football ability. A locker room in the Maher-Velton Fieldhouse has his name on its entrance.
Zetcher was the Coordinator of Basketball Officials for the MIAA for 25 years until his retirement after the 2010-2011 season. He also has retired as the Coordinator of Basketball Officials for the St. Louis Intercollegiate Athletic Conference, a position he held for 22 years.