RON JACOBER
MEDIA
Born: July 3, 1938; Highland, Illinois
Ron Jacober covered sports on radio and television longer than anyone in St. Louis history—other than Jack Buck. He is a U.S. Army veteran and a Journalism School graduate of Southern Illinois University—Carbondale.
Jacober worked in television on KSDK for nearly two decades, then spent 26 years at KMOX radio where he served as sports director for more than 20 years. He has won a number of awards including Emmys for his TV work and several commendations from the Missouri Broadcasters Association.
Ron Jacober has been inducted in the St. Louis Radio Hall of Fame, the St. Louis Media Hall of Fame, the St. Louis Sports Hall of Fame, the Missouri Sports Hall of Fame, and the Highland, Illinois Schools Hall of Fame.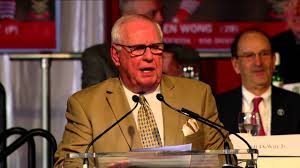 Ron Jacober has done play-by-play for the St. Louis Blues, the St. Louis Cardinals, the St. Louis Steamers, the Storm, and the Ambush soccer teams, college basketball on ESPN, Missouri Football, Illinois Football and St. Louis University basketball.
Ron was a commentator for CBS radio at the Sydney, Australia Olympics. He was awarded the A.I.R. commendation for his radio series, "Postcards from Sydney."
Ron has been associated with the St. Louis Sports Hall of Fame since its inception, serving as the Historical Consultant. He has also co-authored a popular book, "Immortal Moments in Cardinals History."
In his private life, he serves as a Eucharistic Minister and Lector at Christ Prince of Peace Church in Manchester. Ron and his wife, Lois, are proud parents of two veterans.  David, a former MP in the U.S Army and Jeffrey, a Naval Academy graduate, and Top Gun fighter pilot, currently a Captain with Southwest Airlines.