RITA MENKE
Softball
Position: Coach
Born: March 13, 1958; Blue Island, Illinois
Coached at: Belleville East High School (1982-2005)

Rita Menke, a native of Highland, Indiana, grew up during the pre-Title IX e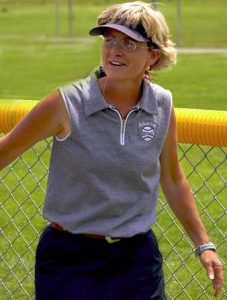 ra which meant that competitive sports for girls were not available in high school.
Rita attended St. Joseph's College in Rensselaer, Ind., where she earned a BS in English/Mass Communications. While at St. Joseph's College, she played basketball and ran track. She worked for the sports information office at the same time keeping score/stats for the baseball team. It was at that time that she first felt the urge to consider coaching.
Rita was hired by Belleville East High School in 1981. While at Belleville East she coached tennis for nine years and softball for 24 years. Her softball teams were consistently some of the best in the state. Her Lancer teams won nine regional titles and ten conference championships in the very competitive Southwestern Conference.
Rita's softball teams won state championships in 1989, 1995 and 2003. They also qualified for state in 1994, losing in the first round  and finished fourth in 2004. She was inducted into both the St. Joseph College Hall of Fame and the Illinois Softball Hall of Fame in 2003. Rita's overall record was 609-174.
Since retiring in 2004, Rita continues to be volunteer with coach Natalie Bennet-Peters and the Belleville East Lancers softball team. She also oversees the Junior Lancers summer softball program.