PAT McBRIDE
Soccer
Position: Midfielder
Born: November 13, 1943; St. Louis, Missouri
Played For: St. Louis Blues (1994-2004), Calgary Flames (1981-1993)
(The following is from Dave Lange's forthcoming history of St. Louis soccer, to be published by Reedy Press in 2011.)
If you were a soccer player or fan during the 1960s, 1970s and 1980s, you couldn't help but notice Pat McBride. First as a player, then as a coach, McBride blazed a trail as one of American soccer's early pioneers. He played a key role in leading St. Louis University to national prominence in the early years of NCAA soccer, then became the first American signed by the National Professional Soccer League, the forerunner of the North American Soccer League.
After a 10-year NASL career that included three All-NASL selections, McBride became one of the nation's leading coaches. He earned coach of the year awards from the National Junior College Athletic Association and the Major Indoor Soccer League.
A north St. Louisan, McBride cut his athletic teeth at Holy Rosary Parish, where he played on CYC city champions in soccer and baseball. He once pitched a no-hitter for Holy Rosary, striking out 14 of 21 batters in a seven-inning game. But by the time he was a teen-ager, McBride focused solely on soccer. He played at St. Louis U. High, then was recruited by legendary soccer coach Bob Guelker to play at St. Louis U. A midfielder, McBride teamed with high-scoring forward Carl Gentile to create the most potent one-two punch in the storied history of St. Louis U. soccer. Playing for the Bills from 1963-65, McBride and Gentile helped the Billikens win two NCAA titles.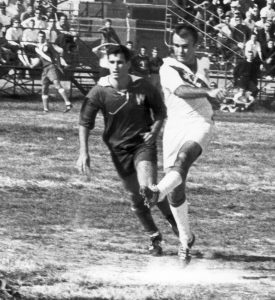 When the new pro soccer team in town, the St. Louis Stars, opened for business in late 1966, they made a point of signing McBride their first American-born player. Paving the way for later American players in the foreign-dominated NASL, McBride appeared in 21 of the St. Louis Stars' 32 matches during their inaugural season in 1967. The 5-foot-9 McBride, a member of the U.S. team during qualifying for the 1964 Olympics, appeared five times for the U.S. National Team from 1969-72 in an era when the national team rarely played outside of World Cup qualifiers. "Pat McBride was like a little buzz saw," said John Carenza, who played for the Stars with McBride. "He was like the Energizer Bunny. You couldn't stop Pat. He was always running around causing havoc somewhere. If he got beat, he got back and covered again. When I moved from playing forward to center back, I saw more of it and realized Pat's value. He had endless energy. He could create havoc among other teams when we had the ball."
McBride retired as a player in 1976. In 1979, the year-old Major Indoor Soccer League established a franchise in St. Louis. McBride by that time was head coach at Meramec Community College, where he led the Warriors to a national championship and had been named National Junior College Coach of the Year. He became the St. Louis Steamers' first coach. He directed the Steamers to the MISL finals, a one-game championship, in 1981. McBride coached the Steamers for less than two seasons in the early 1980s, although he would return for two more with the Steamers from 1985-87 after three years coaching the MISL's Kansas City Comets.
In later years, McBride was coach and athletic director at Forest Park Community College. The affable McBride remains a popular figure in St. Louis soccer. "To this day you see Pat and he's still like he's 17, 18 or 20 years old, he's got the same enthusiasm," said Terry Michler, the all-time leader in U.S. high school soccer coaching victories at CBC. "The neat thing about Pat is he respects everybody and makes them feel better than you should." His qualities as a player and coach earned McBride America's highest soccer honor in 1994. In that year, McBride was inducted into the U.S. Soccer Hall of Fame.