ORLANDO PACE
Football
Born: November 4, 1975; Sandusky, Ohio
Position: Offensive Tackle
Played For: St. Louis Rams (1997-2008), Chicago Bears (2009)
The St. Louis Rams made Orlando Pace the first overall selection in the 1997 NFL draft and for the next 11 seasons he anchored the offensive line with Hall of Fame dominance. The mammoth tackle from The Ohio State University was the first offensive lineman to be selected with the No. 1 overall pick in nearly 20 years. And he wound up anchoring the Rams' "O" line for 11 seasons.
A durable player, Pace started all 16 games eight times in his career and had 154 consecutive starts. He had the privilege of blocking for NFL MVP quarterback Kurt Warner and running back Marshall Faulk.
Pace was a five-time All-Pro and seven-time Pro Bowl selection, and won a Super Bowl ring with the Rams in Super Bowl XXXIV. He finished his career in 2009 with the Chicago Bears. After being named an alternate for the 1998 Pro Bowl team, he made the team as a player in 1999. It was the first time a Rams' offensive tackle was named to the Pro Bowl since Jackie Slater earned the honor in  1990.
The 1999 season was also the Rams first Super Bowl championship, and Pace was an integral part of the team as his tenacious blocking helped make the Rams offense one of the most prolific scoring units in NFL history.
In the 2000 season, Pace started all 16 regular season games and was named to his second consecutive Pro Bowl. Pace was a big reason the Rams produced the most passing yards in NFL history, and even more amazing, he was not called for holding once during the year.
In 2001, Pace started every game for the fourth consecutive season, and played on every offensive down. After a last-minute loss to New England in the Super Bowl, he was off to his third consecutive Pro Bowl.
In 2005, he earned seventh consecutive Pro Bowl invitation, tying him for fourth in Rams history, behind Hall of Famer defensive tackle Merlin Olsen (14), Hall of Famer guard Tom Mack (11), and linebacker Les Richter. That season, Pace started all 16 games at left tackle, joining center Andy McCollum and guard Adam Timmerman as the only Rams linemen to start every game.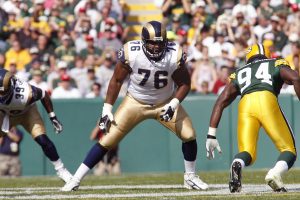 A natural athlete, Pace starred in football and basketball at Sandusky, Ohio, High School. He was named to the Parade Magazine high school All-America team as an offensive lineman and the USA Today All-America team as a defensive lineman. Pace added all-Ohio second-team honors as a junior and averaged 18 points as the center on the Blue Streaks' 22–3 basketball team.
But football was his game and he signed to play for the Buckeyes. He became a Buckeye starter at left tackle as a freshman in 1994 and often played on both the offensive and defensive lines at Ohio State. He helped lead Ohio State to a No. 2 national ranking in 1996 and finished fourth in the balloting for the coveted Heisman Trophy. Pace's play led then-Ohio State football coach John Cooper to state, "In all my years of coaching, I have never been around a player who played his position any better than Orlando Pace." Former Ohio State tailback Eddie George added in a Sports Illustrated article about the benefits of having Pace block for him: "When situations were crucial we always ran to his side. Every time I ran behind him was a guaranteed five yards, because he'd push his man that far backward. He's the best I've ever seen."
No wonder the Rams made a trade with the New York Jets for the rights to draft Pace No. 1 overall after the offensive lineman's junior year. Pace's agents, Kevin and Carl Poston, then landed the young tackle the richest contract for a rookie in NFL history – a $25.6 million package for seven years that included a $6.3 million signing bonus.
After 11 seasons wirth the Rams, Pace was released. Pace was signed as a free agent by the Chicago Bears and signed with the Chicago Bears, with whom he played his final season.
After his career ended, Pace turned his attention to giving back to the community. Pace owns "Big O's Ltd" in his hometown of Sandusky, Ohio. He makes appearances at the family-friendly sports-bar, where he will greet the patrons and sign autographs. He also owns several homes in Sandusky that he rents out to low-income families. Pace is also a spokesman for the "Our Little Haven Safe & Warm" expansion project.
He is still active in the St. Louis community as he donates five tickets to every home game for disadvantaged kids and is the spokesman for Diversity Awareness Partnership along with former Rams' offensive lineman Ryan Tucker.