MEL GRAY
Football
Position: Wide Receiver
Born: September 28, 1948, Fresno, California
Played For: St. Louis Cardinals (1971-1981)
Mel Gray came to the University of Missouri from Santa Rosa, Calif., as MU's first "speed merchant," lettering in football and track from 1968-70. He was an all-Big Eight performer for Dan Devine in 1969, when he caught 25 passes for 705 yards and a school-record nine TDs.
The 5-foot-9 wideout held the Mizzou record for career receiving yardage (1,491) for 20 years, and still holds the school's career mark with 14 career receiving touchdowns. He was named to the Tigers' All-Century Team in 1990.
As a sprinter at Missouri, Gray earned All-America honors – once indoors and twice outdoors. He was a Grand Slam winner in the 100-meter dash in 1970, capturing titles at the Texas, Kansas, and Drake Relays.
Gray was drafted by the St. Louis Football Cardinals, and eventually became an all-pro receiver during a career that lasted from 1971-82.
He attended Montgomery High School in Santa Rosa, Calif., where he starred in both football and track. While winning the 100-yard dash at the 1967 CIF California State Meet, Gray set not only the meet record but the then-national high school record of 9.4 seconds in the event. The record lasted until 1979.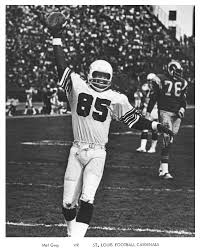 Gray was a five-time Big Eight Conference sprint champion, winning the indoor 60-yard dash (1970), and the 100- and 220-yard dashes outdoors in 1969 and 1970. He is the co-holder of the MU records in all three races, with times of 6.0 seconds, 9.3 seconds and 20.4 seconds, respectively.
After his standout collegiate career, he was selected in the sixth round by the football Cardinals in the 1971 NFL draft. Gray played his entire 12-year pro career with the Big Red and was selected to four consecutive Pro Bowls (1974–1977). Even though he was small in stature, Gray he was tough as nails. He caught passes in 121 consecutive games between 1973 and 1982. Considered one of the league's most dangerous deep threats in his prime, Gray averaged nearly 18 yards per catch in each of his first 10 NFL seasons and scored 46 career touchdowns.
His best offensive season came in 1975 when he caught 48 passes for 926 yards. Eleven of those catches resulted in touchdowns. For his career, he had 351 receptions for 6,644 yards and 45 touchdowns. During his rookie season in 1971, Gray also rushed for 56 yards and a touchdown.