LARRY HUGHES
Basketball
Position: Guard
Born: January 23, 1979; St. Louis, Missouri
Played For: Philadelphia 76ers (1998-2000), Golden State Warriors (1999-2002), Washington Wizards (2002-2005), Cleveland Cavaliers (2005-2008), New York Knicks (2008-2010)

Larry Hughes is a unique individual. A high school All-American and a first-round selection in the National Basketball Association draft, the St. Louis native has always displayed maturity far beyond his age because of his life experiences while growing up. Hughes had to grow up fast. He had to help his mother take care of his younger brother, Justin, who had a defective heart. Justin had two heart attacks and a heart transplant before Larry graduated from high school.
That didn't slow down Larry's basketball career. He became a McDonald's All-American while playing for CBC High School. In order to stay close to his brother, he turned down scholarships to larger schools and opted to play at St. Louis University, leading the Billikens to the NCAA tournament his freshman year, while averaging 20.9 points a game. That season, he was also named National Freshman of the Year and USA Conference Player of the Year.
At the end of that freshman season, Larry left school to enter the NBA draft, hoping to help pay Justin's mounting medical bills. The 6-foot-5 shooting guard was selected in the first round (eighth overall) of the NBA's 1998 draft by the Philadelphia 76ers and became one of the NBA's most versatile players. But he played only two seasons in Philly (which already had a pretty good shooting guard in Allen Iverson), before being traded to the Golden State Warriors as part of a three-team deal in February 2000.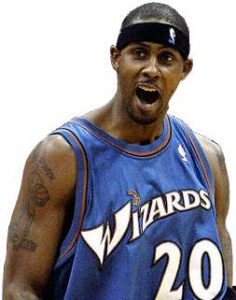 Hughes played three seasons in Golden State, averaging 14.8 points per game, before signing with the Washington Wizards as a free agent, where he had a 15.0 average in three seasons. His best year came in the 2004-2005 season, where he averaged a career high 22 points, 6.3 rebounds, 4.7 assists and a league leading 2.89 steals per game for the Wizards. After also playing for Cleveland, Chicago, the New York Knicks and Charlotte, Hughes retired after playing a few games with Orlando in the 2011-12 season.
In all, Hughes averaged 14.1 points and 3.1 assists during his 12-year NBA career. He averaged 12.7 points during playoff games, including a 20.7 average after the 2004-2005 season. Along his NBA path, Hughes was named to the NBA All Defensive first team in the 2004-2005 season and received the Austin Carr Good Guy Award, designed to recognize the player who is cooperative and understanding of the media, the community and the public.
Justin Hughes died in May 2006 and Larry honored him by co-founding the Larry Hughes Family Foundation; a non profit organization whose mission is to assist families of organ and tissue recipients (children) and donor families with unexpected financial need. He is also owner of Random Acts of Kindness a non-profit organization established by Larry Hughes with the purpose of making a difference in the lives of those less fortunate.
Larry is married to Carrie Hughes and has four children.