Kevin Carter
Football

Born: September 21, 1973, Miami, Florida
Position: Defensive End
Played For: St. Louis Rams (1995-2000), Tennessee Titans (2001-2004), Miami Dolphins (2005-2006), Tampa Bay Buccaneers (2007-2008)

Many will argue that if it wasn't for Kevin Carter's tenacity in leading the St. Louis Rams' defensive line in their 1999-2000 season, the Rams' wouldn't have won the Super Bowl XXXIV trophy. While most everyone focused on the Rams' offense, led by quarterback Kurt Warner, running back Marshall Faulk and wide receivers Isaac Bruce and Torry Holt, the Rams' defense was another reason why the team registered its only "ring" during its St. Louis tenure. And it was Carter leading the way—with a league-high 17 sacks that season.
A 14-year NFL veteran, Carter was drafted sixth overall by the Rams in 1995 and played six seasons in St. Louis, earning Pro Bowl selections in 1999 and 2002. He also played for the Tennessee Titans (2001-04), Miami Dolphins (2005-06) and Tampa Bay Buccaneers (2007-08). Durability was one of his biggest assets. He never missed a game during his NFL career, playing in 224 and starting 219. He finished his career with 627 total tackles and 104.5 sacks. He also served on the NFL Players Association Executive Committee for six years.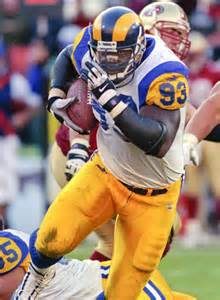 A native of Miami, Fla., Carter played defensive end for four years (1991-94) at the University of Florida under head coach Steve Spurrier. During that time, the Gators won three SEC Championships (1991, '93 and '94). A two-time SEC All-First Team member and a consensus All-American as a senior, Carter amassed 42.5 career tackles for loss and 21.5 quarterback sacks, which rank ninth and sixth, respectively, in Florida's record books.
Carter graduated from Florida in 1995 with a degree in zoology. He was voted onto the Florida Gator All-Century Team in 2000 and Florida's 100th Anniversary Team in 2006. He was inducted into the Florida's Athletics Hall of Fame as a "Gator Great" in 2004.
In 1998, Carter founded the Kevin Carter Football Endowment at Florida, which provides scholarships to deserving college athletes. In 2002, Carter and his wife, Shima, established the Kevin Carter Foundation, an organization created to enrich the lives of children, focusing on youth and character development.
He hosts the "Waiting for Wishes" celebrity dinner and reception, where he and his former teammates, along with celebrities, serve as waiters and waitresses for dinner attendees. Since 2001, the annual dinner has generated $1.3 million dollars for the Make-A-Wish Foundation. Carter was named Community Man of the Year for three straight years by his Titans' teammates, and while with the Rams he was named a United Way African American Leadership Giver.
In 2012, Carter joined ESPN as a college football studio analyst.