JO JO WHITE
Basketball
Position: Guard
Born: November 16, 1946, St. Louis
Played For: Boston Celtics (1969-1979, Golden State Warriors *1879-80), Kansas City Kings (1980-81)
The son of a minister, Joseph Henry "Jo Jo" White grew up in St. Louis playing basketball at McKinley High School. He earned a scholarship to the University of Kansas, where he went on to score 1,268 points during an illustrious four-year career with the Jayhawks. His jersey was retired in 2003.
After college, White went on to become an integral part of the 1968 U.S. Olympic basketball team that captured the gold medal at Mexico City. The team posted a 9-0 record during those Olympics, capping the run with a dominant 65-50 triumph over Yugoslavia in finale to win the gold.
After the Olympics, White was selected in the first round (ninth overall) of the NBA draft by Boston Celtics in 1969. The Celtics, at that time, were coming off their 11th championship title in 13 seasons. But before White reported to training camp, the Celtics' center and player-coach Bill Russell announced his retireme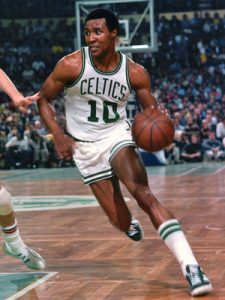 nt. White endured a rebuilding season while the Celtics got back on track, drafting Dave Cowens and trading for Paul Silas. Surrounded by those players and legendary veteran John Havlicek, White would become the cornerstone of Celtic NBA championship teams in 1973–74 and 1975–76.
White went on to become one of professional basketball's original "iron men," playing in all 82 games for five straight seasons. White's skills included great defense, speed, an underrated jump shot, and strong team leadership.
He was an All-Star for seven straight years from 1971 through 1977, finishing in the top 10 in the league in assists from 1973-77. In the 1974 and 1976 championship seasons, White was a central figure in Boston's success. He was named Most Valuable Player of the 1976 NBA Finals and was the game's leading scorer in Game 5 with 33 points and nine assists in a thrilling 128-126 victory over the Phoenix Suns.
Jo Jo was traded by the Celtics to the Golden State Warriors in 1979, and retired two years later after playing with the Kansas City Kings. White finished his NBA career with 14,399 points – an average of 17.2 per game. He also average 4.9 assists and 4 rebounds a game. His field goal percentage was .444 percent, considered an astonishing number for a point guard. He returned to Kansas as an assistant coach from 1982-83. April 9, 1982, White's No. 10 was raised by the Celtics into the Boston Garden.
White continues to be involved in basketball and currently serves as Director of Special Projects and Community Relations with the Celtics.