JIM OTIS
Football

Born: April 29, 1948, Celina, Ohio
Position: Running Back
Played For: New Orleans Saints (1970), Kansas City Chiefs (1971-72), St. Louis Cardinals (1973-78)
(Article written by Dennis Dillon)
Back before the fullback started to become an extinct performer in the NFL, there was Jim Otis. A 6-foot, 223-pound barrel of a man, Otis proved that a fullback could be a paramount player in a team's rushing attack—and not just as a short yardage or goal-line weapon.
In nine NFL seasons, the final six of which were in a St. Louis Cardinals uniform, Otis carried 1,160 times for 4,350 yards and 19 touchdowns. As a receiver, he had 90 catches for 549 yards and three TDs.
Drafted in the ninth round by New Orleans in 1970, Otis played one season for the Saints and two for the Kansas City Chiefs before coming to St. Louis, where he made his mark during the "Cardiac Cards" era under coach Don Coryell.
The Cardinals won the NFC Eastern Division in 1974 and 1975, and posted double-digit victories in three consecutive years (1974-76). Although the Cardinals had the fast, elusive Terry Metcalf at running back, that didn't prevent them from handing the ball to Otis.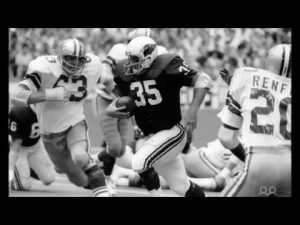 His finest season was 1975, when he carried 269 times for 1,076 yards, leading the NFC in rushing and finishing fourth overall in the NFL behind O.J. Simpson, Franco Harris and Lydell Mitchell. That performance earned Otis a selection to the NFC Pro Bowl team. He also rushed for 664 yards in 1974, 891 in '76 and 664 in '78.He retired shortly before the start of the 1979 season.
A native of Celina, Ohio, it was almost a fait accompli that Otis would go to Ohio State University and play for iconic coach Woody Hayes. His father, Dr. James Otis, had been the roommate and best friend of Hayes when both men were members of the Sigma Chi fraternity at Dennison University.
Otis played three seasons (1967-69) at Ohio State, and led the Buckeyes in rushing every year. As a junior, he helped Ohio State win the 1968 national championship. As a senior, he was voted a consensus first-team All-American. During Otis' Ohio State career, the Buckeyes beat Michigan, their biggest rival, two out of three times in "The Game." Otis rushed for more than 100 yards in each of the three games, and he scored four touchdowns in Ohio State's 50-14 victory in 1968.
Otis, who finished seventh in balloting for the Heisman Trophy in 1969, was inducted into OSU's Varsity O Hall of Fame in 1996, and selected to the school's All-Century team in 2000.
In 1982, Otis partnered with Clark Amos to form Otis and Clark Properties, a real estate company which develops hotels, office building and shopping centers. Otis and his wife, Jan, have been married for more than 40 years and have four children, including James, who played for Ohio State's 2002 national championship team.