JIM BAKKEN
Football

Born: November 2, 1940, Madison, Wisconsin
Position: Kicker
Played For: St. Louis Cardinals (1962-1978)

He was called "Bags" by his teammates because he was usually "money in the bank" when it came to his placekicking specialty. But if the Los Angeles Rams hadn't made the mistake of letting him go after drafting him in 1962, Jim Bakken wouldn't have become a member of the St. Louis Cardinals the following year. And the Big Red were glad to have him.
He was a kicker for the Big Red for the next 17 seasons … many times handling the punting duties as well. Bakken was a four-time Pro Bowl selection, and he was named by the voters of the Pro Football Hall of Fame to the Professional Football 1960s and 1970 All-Decade teams, which included both NFL and American Football League players.
In 1967, Bakken set an NFL record for most field goals in a game with seven in a 28-14 victory in Pittsburgh. That record was later tied by Minnesota's Rich Karlis in 1989, Dallas' Chris Boniol in 1996, and the Cowboys' Billy Cundiff in 2003 before Rob Bironas of the Tennessee Titans kicked eight field goals in a 2007 game.
Between 1963 and 1971, Bakken was practically automatic on extra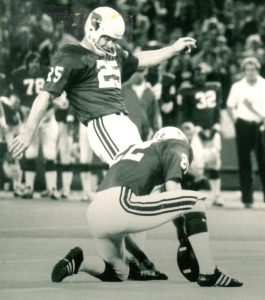 point attempts, missing only four of 323, and he was perfect on PATs in seven seasons.
During the 1975 and 1976 seasons, Bakken hit on 39 of 51 combined field goalattempts (76 percent).Bakken scored 1,380 points during his NFL career, converting 282 of 447 field goal attempts (63.1 percent) and 534 of 553 extra point tries (96.6 percent). He is tied for 11th on the NFL's alltime list of consecutive games played, having appeared in 234 straight from Nov. 25, 1962 to Dec. 17, 1978.
Born and raised in Madison, Wis., Bakken played football at Madison West High School and quickly displayed his all-around physical talents as he became an all-state player in football, basketball and baseball. He played three seasons at the University of Wisconsin, where, as a sophomore, he was named honorable mention All-Big Ten and helped the Badgers win the 1960 Rose Bowl.
He became the first Wisconsin punter to average more than 40 yards per punt with a 41.9-yard mark in 1960, and he led the Big Ten in punting average in both '60 and '61. A co-captain of the 1961 team, he still holds the mark for second-longest punt in Wisconsin history, a 90-yard kick against Northwestern in 1961.
Bakken has received several post-career honors, including being named the Missouri Athletic Club's Sportsman of the Year in 1976. He also was named to the Madison Sports Hall of Fame in 1984, and was later inducted into the UW Athletic Department-National W Club Hall of Fame. In December 2010, the annual trophy for the Big Ten's best kicker, the "Bakken-Andersen Kicker of the Year" Award, was co-named in his honor.
Bakken continued to perform athletically after his football career ended, using his hands instead of his right foot. He was a seven-time Wisconsin State Masters Handball Doubles champion (1991-97).