JEROME HEAVENS
FOOTBALL

Born: August 1, 1957; St. Louis, MO
Position: Running Back
Played For: Assumption HS (1972-1975), Notre Dame University (1976-1979), Toronto Argonauts (1981)

By Jerome Heavens
Jerome Heavens was born August 1, 1957 in St. Louis Missouri to Levester (deceased 2019) and Hethalene Heavens. He is the oldest of three siblings, Crystal and Jimmie. He has two sons Dameion and Jerome and two grandsons, Kingston and Jaminson.
Jerome was raised in East St. Louis where he attended John Robinson Elementary until his transfer to St. Adalberts Catholic Elementary school. He desired to obtain a good education and became an athlete. After achieving great athletic moments in grade school, he prepared himself mentally and physically for high school. Assumption High School in East St. Louis was his and his family's choice. The school provided a solid academic program and a great sports program.
Jerome's High School break-out came in the second game of his sophomore season against Althoff High School when coach Jim Monken turned to him and said, "Get in there". He scored (2) two touchdowns that night. His high school career as a fullback culminated in 43 touchdowns and 3175 rushing yards.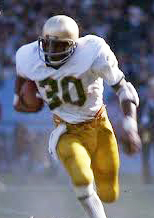 Heavens was named All-Metro three times, All-State twice and All-American twice. He was also named the St. Louis Globe Democrat's football Athlete of the year for the 1974-75, his senior season. Jerome has never forgotten the great people and talented players that crossed his path at Assumption. He played with current St. Louis Sports Hall of Famer Eric Wright. His experiences at Assumption laid the foundation for his future.
Heavens chose to attend the University of Notre Dame, where he played as a fullback under Coach Dan Devine. He completed his freshman year with 756 rushing yards, 5.9 yards per carry, and five touchdowns. He rushed for 148 yards against Georgia Tech, a freshman record. The team ended the season with an 8-3 record. This Georgia Tech game was also 'the Rudy game' where walk-on Dan Ruettiger made his famous tackle.
During the 1976 season, Heavens sustained a knee injury in the third game which shortened his season. However, during the 1977 season he became the first Notre Dame running back to rush for 200-yards in a single game against Army.
The entire team worked together to defeat #1 ranked University of Texas in the Cotton Bowl to become the National Champions. Heavens and teammate Vagas Ferguson rushed for 101 yards and 100 yards respectively in the title clinching 38-10 victory over Texas. Heavens led the national championship team in rushing with 994 yards.
The 1978-79 season began with Heavens elected as a tri-captain along with Joe Montana and Bob Golic. The team's goal was to repeat as National Champs. The team started with a 0-2 record, but then rallied to win eight straight games.
During the season, Heavens broke George Gipp's 58 years all-time rushing record. Although other players have surpassed Jerome's feat, he still currently ranks seventh on Notre Dame's list of career rushing yards.
Jerome's last collegiate game was in another Cotton Bowl game against Houston. He led the team in receiving and rushing to help with what was celebrated as one of the greatest comebacks in the history of Notre Dame.
Jerome received his B.A in Economics in 1979. That same year he was drafted by the Chicago Bears and after being released, tried out with the San Francisco 49ers and Tampa Bay Buccaneers. In 1981, Jerome played briefly with the Toronto Argonauts, Canadian League.
Jerome is currently employed as a Sales Manager for Lakeshore Beverage in Chicago. He and wife Patti of 31 years reside in Lansing, Illinois.
GO IRISH! In loving memory of Father Ted Hesburgh and Levester Heavens.