JEFF LUECHTEFELD
BASKETBALL

Born: September 10, 1968
Position: Small Forward
Played For: Okawville High School (1984-1987), St. Louis University (1988-1991)

It's a family affair for Jeff Luechtefeld. Jeff Luechtefeld is a member of local basketball royalty, namely the First Family of Okawville Hoops. And he couldn't be prouder of it.
The Luechtefeld family has enjoyed a strong fondness for basketball spanning decades.  Jeff's dad, David, is a legendary basketball – and baseball – coach at Okawville, a small, close-knit community in Washington County. David, who also served in the Illinois Senate for 22 years, guided Rockets' basketball from 1962-2000, compiling a glistening record of 748-348 and establishing himself as an Illinois Basketball Coaches Association Hall of Famer. He also received a Legends Award from the St. Louis Sports Hall of Fame in 2017.  Then there's David's younger brother, Stanley, another Okawville High player who followed his brother to Saint Louis University. David graduated from SLU in1 962 and Stanley followed suit in 1964.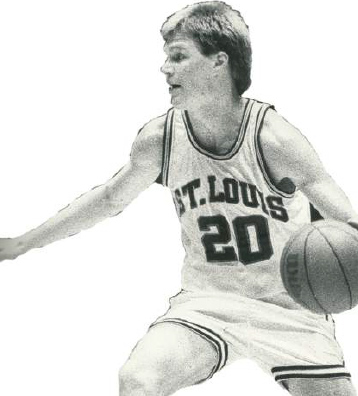 That was just the start of the Luechtefeld love affair with the Billikens.   Jeff, an Okawville High standout and 1987 grad, played basketball for the Bills and graduated in 1991.  Sister Donna, a 1994 grad, excelled there by scoring more than 1,000 points. David and Flo's youngest son, Ryan, then carried the Okawville tradition to SLU from 1995-99.   David, Stanley and Jeff played in the NIT, while Ryan participated in the 1998 NCAA Tournament.
Jeff served as a key member of the 1986-87 Okawville High squad, that finished second in state, and then emerged as a three-year starter at SLU. He joins a heralded class in this year's St. Louis Sports Hall of Fame.  "I truly enjoyed all of my basketball career," Luechtefeld said.  "I have been fortunate to travel to so many places and meet so many people and do so many things."  He added, "I also consider myself lucky to have been coached by Rich Grawer and my father. I cherish the friendships I made over the years of playing basketball and I also clearly enjoy watching basketball today."
Jeff Luechtefeld sports impressive credentials. He earned All-State honors at Okawville, where the Rockets won 29 games during their memorable 1986-87 season.  He scored 1,409 points, contributed 538 rebounds and 389 assists, and shot 77.3 percent from the free throw line. Those achievements enabled him to earn multiple post-season honors.
He made a smooth transition from small-school prep basketball to Saint Louis University and big-time college hoops.  He thrived thanks to solid long-distance and foul shooting, plus a knack for playing aggressive defense.  Overall, he sank 139 treys, 10th-best on the all-time SLU 3-point list. Luechtefeld also accounted for 120 steals, ninth in Billikens' history, and shot 74 percent from the free throw line in 109 games. Luechtefeld ranks in the top three for single season 3-pointers and steals and the top five for single-season assists.  He played on two SLU teams that finished second in the NIT. During his senior season, Luechtefeld averaged 12.9 points and 5.6 rebounds for the Billikens.
Now, he lives in Nashville, Ill, with his wife, Nicole and their three children: Rylee, Josie and Jace.  Rylee is a junior starter for the Hornettes' basketball team and continuing in the Luechtefeld basketball tradition.  Jeff Luechtefeld has been working as a financial advisor for 27 years, including the last seven with Benjamin F. Edwards and Company in O'Fallon.