JACKIE SMITH
Football
Position: Tight End
Born: February 23, 1940, Columbia, Mississippi
Played For: St. Louis Cardinals (1963-1977), Dallas Cowboys  (1978)

Jackie Smith, a 6-4, 235-pound tight end, was a fixture for 15 years with the St. Louis Football Cardinals from 1963 to 1977. He finished his career with the Dallas Cowboys in 1978. At the time of his retirement, he ranked as the all-time receiver among tight ends with 480 receptions for 7,918 yards and 40 touchdowns.
Smith's football career got off to a rocky start.  Opting out of band — he was first-chair clarinet – after his freshman year of high school, Jackie played football – sort of.  He tore his Achilles tendon in spring practice and was on the bench the whole season.  He suffered osteomyelitis in his ankle his junior year, which kept him from playing all but the last game of the season. Fortunately, the track team was keeping this young athlete in the competitive spirit.  In his senior year of high school, Jackie Smith won the state championship in hurdles for his division.  He also got to play at least half a season of football as first-string tailback until a hip injury sidelined him in the fourth game of the season.
The injuries that hounded Jackie as a kid disappeared in his college days.  He continued to grow in strength and speed while enrolled at Northwestern Louisiana State University on a track/football scholarship.  His speed and agility impressed Cardinals trainer and scout Jack Rockwell enough to ensure that Smith was chosen in the 10th round o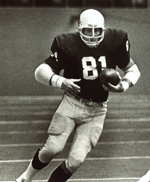 f the 1963 draft.
Cardinals coach (and former Chicago Cardinals tight end) Fran Polsfoot took Smith under his wing, aiding him in developing as a tight end.  Using his speed as an offensive advantage, Smith would simply run right over tackles and into the open. Smith became the Cardinals' starting tight end during his 1963 rookie season and remained a fixture at that spot the rest of his tenure in St. Louis. He gave notice of things to come when he gained 212 yards on nine receptions in a game against the Pittsburgh Steelers that year. During his rookie year he caught 28 passes for 445 yards and two touchdowns, establishing himself among the new breed of tight end.
For sure he was fast, but his intense, competitive spirit was felt by any defensive tackle who tried to prevent him from gaining yardage for the team.  "I never wanted to give up before I had to," said Smith.  "Your teammates were all out there working hard and it was a great obligation to them to get every bit of yardage I could."  Smith's loyal determination became a punishing blow to the competition.
From 1964 to 1969, Jackie Smith averaged 47 receptions per season.  He played in Pro Bowls each year from 1967 to 1971 and was selected to the All-NFL team in 1967. In addition to those impressive stats as tight end, Smith was also the regular punter for the Cardinals from 1964-66, averaging 39.1 yards per kick.
The team's offensive co-captain, Smith reed off a string of 45 straight games from 1967 to 1970 with at least one reception. He played in 121 consecutive games starting with his first NFL contest and continuing until a knee injury sidelined him in 1971. Injuries slowed him again in 1975 and 1976, but Smith still played in 198 games. He played in five straight Pro Bowls and was named All-NFL in 1967 and 1969. His single-season best performance was in 1967 when he caught 56 passes for 1,205 yards and nine touchdowns.
After spending his entire career with the Cardinals, Smith signed with Dallas in 1978.
On January 29, 1994, Smith was officially voted into the Pro Football Hall of Fame in Canton, Ohio. In 2001, he was honored with a star on the St. Louis Walk of Fame.