Irv Goode
Football
Born: October 12, 1940; Newport, Kentucky
Played For: Kentucky University (1959-1962), St. Louis Cardinals (1962-1961), Miami Dolphins (1972-1974)

Who hasn't been in a practice where a coach implores players to be ready for anything, that you never know when your time may come? If football coaches ever need a great example, they should tell the story of Irv Goode.
Drafted in 1962 to play center for the National Football League's St. Louis Cardinals – and anticipated to be a back-up center in his rookie season – Goode arrived to his first camp, where within days moved to starting tackle. "It feels kind of good that they can trust you to play the different positions," Goode once said. "But it took a lot of work."
Goode certainly worked on his craft, carving out a 13-year pro career, including 10 seasons with the Cardinals. The former University of Kentucky standout was actually drafted into the NFL as well as the American Football League (Dallas Texans) in 1962, but chose the Cardinals, who had made him a first-round selection.
Playing as a left guard through most of his career, the Pro Bowl. Along the way, he helped St. Louis to nine-win seasons in 1963, 1964 and 1968 and a pair of eight-win seasons in 1966 and 1970.
He was with the Buffalo Bills in 1972 and then spent his final two seasons with the Miami Dolphins, playing on their 1973 Super Bowl championship team that beat Minnesota in the big game and then on their 11-3 playoff team in 1974.
In truth, Goode had that quiet confidence necessary to fit right into the NFL – and had much needed momentum that carried him into his first training camp. You see, before his arrival to St. Louis, Goode was up the road in Chicago preparing for the College All-Star Game. In other words, he was among the best in college, too.
Goode was named the Cardinals' Rookie of the Year in 1962, kick-starting a career that coincided with some of biggest names in the Cardinals franchise's history. In 1968 alone, the offense featured quarterback Jim Hart and halfback Johnny Roland.
Goode was part of an offensive line that included tight end and Pro Football Hall of Famer Jackie Smith, tackles Ernie McMillan and Bob Reynolds, center Bob DeMarco and right guard Ken Gray. Hart, Roland and Smith are all Missouri Sports Hall of Famers.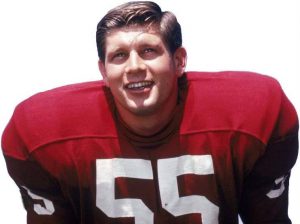 Goode earned Pro Bowl selections in 1964 and 1967, and all along the way, he had the support of his wife, Anne. They are parents to parents to eight children and 16 grandchildren.
Goode was named a Sporting News High School All-American in addition to all-conference and All-State by the Louisville Courier-Journal. In fact, the Boone County Rebels football team plays its home games now on Irv Goode Field.
At the University of Kentucky, Goode was a two-way player as a center and linebacker. A team captain in 1961 for the Wildcats, Goode was a First Team All-American by Time, Third Team All-Southeastern Conference by UPI and played in four all-star games. Since, he has been inducted into UK's inaugural Athletics Hall of Fame Class (2005) and received the honor of Legend in the SEC in 2008.
(Article from the Missouri Hall of Fame)