HARRY WEBER
SPORTS SCULPTOR

Born: June 11, 1942, St. Louis, Missouri
Famous Sculptures: Albert Pujols, Bill Bradley, Bobby Orr

By Harry Weber
My career in art is really the fortunate result of a bad habit. Even before I could talk, I was drawing. No wall or tablecloth was safe. Throughout high school and college I would make sure I worked with any organization that might let me draw or paint something.
Not that I needed an excuse. I carried a sketchbook with me everywhere and spent most of my time drawing the teachers and classmates around me. It is hard to believe I managed to graduate. The Navy had paid my way through Princeton and wanted four years in return. I spent six. I had a brief tour in Diesel submarines, two destroyers and a year on River Patrol Boats in Vietnam. The sketchbooks were with me there too. A collection of drawings I did in Vietnam have been installed as a permanent collection in the military museum associated with the USS Alabama in Mobile.
After the Navy I worked in advertising and marketing for two decades forming my own consulting company whose clients included most of the most dangerous and delicious things in the world. Drugs (the legal kind), Jack Daniels, Anheuser Busch, R J Reynolds Tobacco, Keebler Cookies. Even though this was, as my mother would say, "a real job," while working in New York I would go from bar to bar sketching the folks there drinking, talking and playing music.
As a part of a life-long love for horses and dogs (hounds in this case), I fell into fox hunting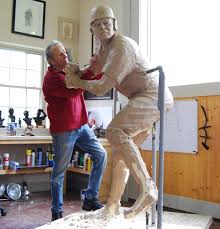 , becoming the Master and Huntsman for Bridlespur Hunt in St. Louis. It was here that I did my first sculpture…of a foxhound in 1977. The market for small sculptures related to this sport was pretty good and my fledgling career really took off when two of my pieces were stolen from a gallery in New York along with a couple of Remingtons, a Bonheur, and a Mene. Pretty good company and the insurance was as good as a sale.
It wasn't until 1997 that I could really "give up the day job." That was the year I got some commissions for larger pieces and the real life change: a call from the St. Louis Cardinals saying they wanted sculptures of all the St. Louis Baseball Hall of Famers with retired numbers. With that, I shut the doors on the day job, informed my wife, Anne, that she was married to a potentially starving artist and got to work.
In the 22 years since then my team and I have installed over 150 sculptures in public view. These are about evenly split between historical figures and sports icons. We now have sculptures in 28 cities in the U.S., China and Africa. They are featured at 17 different sports stadiums, ballparks, arenas and Halls of Fame throughout the U.S.
It is important to note that my career is a team effort. Vlad Zhitomirsky and his sons at VMD Sculpting are my partners, friends and the absolute best at what they do in taking my original artwork and crafting it into the bronze sculptures we have installed all over the world.
Also, it has to be said that I bask in the reflected glory of my subject matter. I will be forever grateful to the men and women whose achievements merited the recognition of the statue in the first place.