GENE BAKER
SOCCER

Born: October 28, 1966; Chicago, IL
Coached For: Riverview Gardens HS (1968-1972), Granite City HS (1973-1997), Blackburn College (2001-2007)
By Steve Porter
There's no secret to the enormous success Gene Baker shaped during his illustrious soccer coaching career covering more than 40 years. Let Baker explain it to you: "I had great players and great families," said Baker, a legendary coach at Granite City, Riverview Gardens, Mo. and Blackburn College in Carlinville, Illinois. Great coaching might have had something to do with it, too.
Baker guided the Granite City Warriors to nine state titles and the school's turf is named Gene Baker Field. Before Baker's career in Steel City, he started the soccer program at Riverview Gardens in the late 1960s and following his 27 years at Granite City, Baker coached at Blackburn for eight seasons.  He also coached girls' soccer at Granite City, plus men's and women's soccer at Blackburn.
His overall record was 778-196. Baker was National Prep Soccer Coach of the Year in 1983 and 1988. So everywhere Baker went, he produced winners. Most of them came at Granite City, where Baker's teams won 514 matches in 27 seasons. Under his direction, the Warriors captured IHSA championships in 1976, 1977, 1978, 1979, 1980, 1982, 1987, 1989 and 1990. They also finished second in 1994 and third in 1988.
"I feel really fortunate. There's no doubt about it," Baker said of his successful career. "My approach to the game is very eclectic. You can learn from anyone in any given spot." He learned from some of the best minds of the game and dispatched that knowledge to his players, many of whom pursued coached.
"The one thing that Coach Bob Guelker preached to us was to try and elevate the game every time you go onto the field," Baker said. "You should always try to make it a better game each time." He learned that from Guelker, a coaching wizard himself at Saint Louis University and Southern Illinois University Edwardsville. Baker was a key member of the 1965 national championship Billikens' team that went undefeated and relied on Pat McBride and Carl Gentile to keep them percolating.
Actually, Baker, a high school graduate of CBC in St. Louis, went to Rockhurst University in Kansas City, Mo. to play basketball. But he eventually transferred to SLU and soccer became his sport and his love, though he did coach some high school basketball. He became so proficient at coaching soccer that Baker now is a member of six Halls of Fame.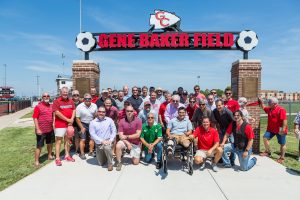 And the list of his followers and supporters is endless. "I still have a lot of lot of contacts through the years with my former players," Baker said. "I think there are about 80-to-90 of them coaching in some capacity and I'm proud of all of them." He added: "We had good kids with good attitudes and the parents were extremely supportive."
His teams were known for their ability to get goals in clutch situations and play air tight-defense. Get this: In those nine state championship victories, including five consecutive ones, the Warriors allowed a total of just five goals. "We took a great deal of pride with our defense," Baker said. "It seems like we always played good defense." Overall, Baker's Warriors qualified for state 14 times and he produced 13 high school All-America kickers and 44 All-State players.
Baker coached the Granite City girls' program from 1987-1997 and the Warriors had three Final Four finishes at state, including a third in 1996. At Blackburn, he became the winningest coach in the history of both Division III soccer programs and Baker earned two St. Louis Intercollegiate Athletic Conference Coach of the Year honors.
"I miss coaching because I really enjoyed it," Baker said. "But I still follow soccer as much as I can."