ERNIE HAYS
Sports Musician
Position: Organist
Born: January 1, 1935; St. Louis, Missouri
Died: October 31, 2012; Maryland Heights, Missouri
Played for: Cardinals (1971-2010), Blues, Steamers, Stars, Spirits

(By Dawn Harmon)
Who is the only person to play for the baseball Cardinals, the football Cardinals, and the Blues in the same year? Why Ernie Hays, that's who! Ernie was arguably the greatest sports organist and a fixture of the St. Louis sports scene for four decades. Regardless of what happened on the field, court or ice, fans could count on Hays for entertainment.
Hays, who was born Jan. 1, 1935, in St. Louis, started his sports career in 1971, when an organ was installed in Busch Stadium II. Aside from countless regular and post-season baseball games, he also played for an All-Star Game and for five World Series.
Hays popularized batter walk up music, starting with the "Theme from Shaft" for Lou Brock. He's widely credited for being the first to use entrance music for relief pitchers by playing "Hungarian Rhapsody No. 2" as Al "the Mad Hungarian" Hrabosky warmed up.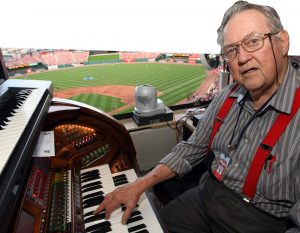 During his 40-year career, Hays played for five professional and two college teams in the St. Louis area, including 22 years for the hockey Blues, the MLS Steamers, and for the American Basketball Association's Spirits of St. Louis. Hays did all his playing as a "part-time" job. His day job was as an engineering supervisor for "Ma Bell" and teaching piano and organ on the side. Hays turned an advertising jingle into a St Louis sports tradition when he played "Here Comes the King," the popular Budweiser jingle, during a Steamers game.
Hays never used sheet music, just his "God-given talent." Classically trained, Hays played in the Smithsonian Museum of American History in 1983. His three performances as guest soloist for the St. Louis Symphony, on both piano and organ, were all sellouts. Hays released his "Organ for All Seasons" album in 1975, which featured sports staples as well as music standards. Hays was presented with the Jack Buck Award in 2010.
Hays, who had open-heart surgery in February, 2006, left the Cardinals after the 2010 season when, like most clubs, the Cardinals began using recorded music almost exclusively. When live music was used, it was of the more contemporary style than Hays played.
Hays died in 2012 at the age of 77, but his legacy continues through his protégés and countless memories he gave St. Louis sports fans.