DICK WEBER
Bowling
Born: December 23, 1929, Indianapolis, Indiana
Died: February 14, 2005, Florissant, Missouri
Dick Weber was a founding member and longtime star of the Professional Bowlers Association (PBA). His legendary career spanned 50 years and included 26 regular and six senior PBA tour titles and put Weber into both the PBA and the American Bowling Congress (ABC) Halls of Fame.
During the 1960s, when bowling was a staple of sports television, Weber emerged as bowling's most famous personality. His gentlemanly manner and extraordinary skill made him a crowd favorite. Weber was also known as a tireless ambassador of his sport, and rarely passed up an opportunity to promote the sport. One promotion had him bowling the highest (altitude) game ever in "Operation AstroBowl," which took place on a Boeing 707 on Jan. 7, 1964. The flight was from New York to Washington's Dulles Airport. Weber also appeared several times on The Late Show with David Letterman. He usually hurled bowling balls into strange items requested by viewers. A lane was set up outside the studio and Weber would bowl into things such as TV sets or eggs.
Weber consistently has been voted by fans as one of the top three bowlers of all time. A charter member of the PBA, Weber was a frequent finalist in bowling tournaments that were televised in the United States during the 1960s.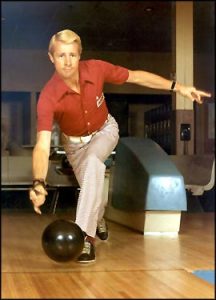 Weber got his start in the sport at an after-school job in a bowling alley where the proprietor allowed him and other pinsetters to bowl without charge during off-hours. It marked the beginning of one of the most successful bowling careers in history.
After years of bowling for small purses in after-midnight matches, while holding jobs ranging from street photographer to postal clerk, Weber was invited in 1955 to join one of the first professional bowling teams in the United States, the Budweisers, located in St. Louis, MO. In his first tournament appearance with the team, which included future legends Don Carter, Ray Bluth, Tom Hennessey, and Pat Patterson, Weber's share of the prize was $200. That amount was equal to what he had earned in four weeks at the post office.
The Budweisers dominated the fast-growing sport in the late 1950's and amassed a record 3,858 pins in one match, a mark that stood for more than three decades. In 1958, Weber became a founding member of the PBA which he subsequently dominated. He soon became one of the most frequent winners in individual tournaments held by the PBA after its formation. Bowling Magazine named Weber to its all-American team 11 times and honored him as the best bowler of the 20th century.
Weber won 26 tour titles and six other champioinships on the PBA Senior Tour between 1959 and 1992. He won four national individual match game championships and paired with Bluth to capture the national doubles title four times. Weber continued his string of victories even after being elected to the PBA Hall of Fame in 1975. He became the first bowler to record PBA titles in six consecutive decades when he won a PBA title in 2002.
Weber won Bowler of the Year honors in 1961, 1963 and 1965. With amazing longevity and consistency, he won four All-Star titles, 11 All-American Team honors, 26 PBA tournaments and six senior titles in an unprecedented six decades. He was inducted into both major bowling halls of fame. The youngest of Weber's four children, Pete Weber, followed his father's footsteps into the PBA Hall of Fame in 1998.