DANNY COX
BASEBALL

Position: Pitcher
Born: September 21, 1959; Northampton, England
Played For: St. Louis Cardinals (1983-1988), Philadelphia Phillies (1991-1992), Pittsburg Pirates (1992), Toronto Blue Jays (1993-1995)
Danny Cox has baseball bubbling in his blood. It's his passion, his calling and his talent. All of that was on display for 11 Major League seasons, including six with the St. Louis Cardinals during their successful 1980s. The 6-foot-4 right-hander pitched his way into it. He won 56 games for St. Louis and 74 overall in his career.
"It was great to play for the Cardinals and we had some very good teams," said Cox, who pitched for the 1985 and 1987 NL-Champion Redbirds. "The whole team in 1985 was unique and we set a lot of records. We had strong pitching, played good defense, and stole a lot of bases in both 1985 and 1987. We had elite teams."
The fans jumped on the Cardinals' 1980s winning bandwagon the players took notice of that frenzied support. Three World Series appearances in six seasons, including a World Championship in 1982, will do that. "St. Louis created such a great atmosphere for us," Cox said, tipping his cap to the fervent fans. They backed him for his solid big-game pitching, bulldog mentality, and old-school workhorse approach. He carried a relentless attitude to the mound every time it was his turn to pitch "I gave it my all every time," Cox said.  Whitey Herzog, the Cardinals' manager, agreed. "Danny is a battler, and he was always willing to take the ball," Herzog said.
Cox won some of his biggest battles in 1985 when he posted an 18-9 record, compiled a 2.88 ERA, threw 10 complete games, four of them shutouts, and struck out 131 batters in 241 innings. He then won Game 3 of the NLCS against the Los Angeles Dodgers and Game 2 of the World Series against the Kansas City Royals. In Game 6 of the WS, Cox pitched seven shutout innings against the Royals, but things unraveled after that, especially when umpire Don Denkinger missed a call at first base. The Royals rallied to win the game. KC also won Game 7 and the World Series.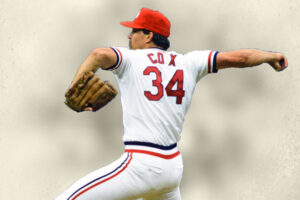 Two years later might have been Cox's most memorable moment as a Cardinal. He blanked the San Francisco Giants, 6-0 in Game 7 of the NLCS at Busch Stadium and sent the Redbirds into the World Series against the Minnesota Twins. "As you look back on it, that was a really neat thing and pretty darn cool," Cox said of his Game 7 gem. Cox won Game 5 of the World Series against the Twins, but Minnesota prevailed in all four of its home games to offset the Cardinals three victories in St. Louis.
Nevertheless, Cox won three postseason games in two years. And although the Cardinals didn't win a World Series in 1985 or 1987, Cox did get a World Series ring. But it came with the Toronto Blue Jays in 1993, when he came out of the bullpen to bolster a strong starting staff. He logged a 5-3 record for that Jays' team, which successfully defended its WS championship. "We had an All-Star team and that was a great moment for me," Cox said. "When that season ended, I was the No. 1 reliever for first-batter efficiency in the big league. I was proud of that."
More proud moments were stirring. Cox remained in baseball after his retirement from the Blue Jays following the 1995 season. He became manager of the Gateway Grizzlies of nearby Sauget, Illinois and guided them to the Class A Frontier League title in 2003, his first season. "That was a nice reward," Cox said. The Grizzlies won 197 games during his four years as a manager. He coached at New Athens High School after that and instructed youngsters through his pitching clinics. "I always tell them to throw strikes and get ahead early in the count," Cox said of his pertinent advice. "You will never know what your stuff is doing in a game unless you throw strikes."
These days, the 62-year-old Cox, who lives on a farm outside of Freeburg, Illinois, stays baseball-active by working for the Cardinals. "I do some of the Cardinals' kids' clinics and their legends camps and I'm honored to be part of those," he said. "I really enjoy it because what the Cardinals do for their alumni is outstanding."