CURTIS JOSEPH
Hockey

Born: April 29, 1967, Keswick, Ontario, Canada
Position: Goalie
Played For: St. Louis Blues (1989-95), Edmonton Oilers (1995-98), Toronto Maple Leafs (1998-2002), Detroit Red Wings (2002-04), Phoenix Coyotes (2005-07), Calgary Flames (2008)

By George Csolak
In 1993, Curtis Joseph was the man in the shadows, playing second fiddle to Vincent Riendeau in the St. Louis Blues' goaltending pecking order. Three years earlier, he'd arrived, a free agent who the Blues wined and dined in a highly-publicized courting for his services during the Mike Shanahan ownership regime.
While patiently waiting his turn, Joseph was plagued by knee and shoulder injuries. Joseph was offered to the New Jersey Devils in 1993 as part of a compensation package for the Blues' renegade signing of unrestricted free agent Brendan Shanahan. Devils GM Lou Lamiorello rejected the offer, calling Joseph "an overpaid, average goalie who is prone to injury." Man was he wrong. The man known as "Cujo" grabbed the No. 1 goaltending job shortly after that and went on to become a finalist for the Vezina Trophy as the league's top goaltender.
His stellar play in the 1993 Stanley Cup playoffs literally carried the Blues to Game 7 of the second round against Toronto. Joseph stopped 61 of 63 shots in a Game 1 double-overtime loss to the Leafs. A native of Keswick, Ontario, Joseph began to establish himself as one of the NHL'S top goaltenders from then on. The more rubber he saw, the more spectacular he played. His competitive fire was unmatched. In 1993-94, Joseph posted a regular season record of 36-23-11 record, but the Blues didn't get out of the first round of the playoffs.
The heartbreak was only the start of his problems. Mike Keenan had taken over as coach and GM of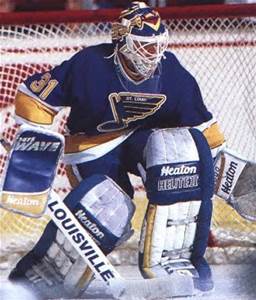 the Blues and he quickly began to torture Joseph, pulling him out of games and ripping him in front of his teammates. Once, the two engaged in a heated discussion in Keenan's office and Joseph wiped his boss's desk clean in a fit of rage. It was no surprise on July 28, 1995, Keenan traded Joseph to the Edmonton Oilers for winger Shayne Corson and center Marty Reasoner.
"I couldn't imagine anyone treating other human beings that way," Joseph said. "I had had it. The trade was the best thing that ever happened to me." While it was good for Joseph, it was one of many nightmarish moves and events staged by Keenan during his tumultuous tenure in St. Louis. For Cujo, it meant new life and he took full advantage. He had three solid seasons with the Oilers and was in the nets for playoff upset series wins over Dallas and Colorado in 1997 and 1998, respectively.
In July of 1998, Joseph became a free agent and signed with the Toronto Maple Leafs, a team he would win 133 games for over the next four seasons. In 1999 and 2002, he came close to taking the Leafs to the Stanley Cup finals, only to lose to what many felt were inferior teams in Buffalo and Carolina in the Eastern Conference finals.
Overall, Joseph played 19 seasons in the NHL and posted a regular season record of 454-352-96, but was only 63-66 in playoff games, with a 2.45 goals-against average and a .917 save percentage. Still, Cujo captured the hearts of hockey fans everywhere with his acrobatic, unconventional style.
He played for Team Canada at the Olympics twice and won a gold medal in 2002 at Salt Lake City. After winning the gold, Joseph played two seasons with Detroit, two with Phoenix, and one with Calgary before playing his final season in Toronto. He retired in January of 2010, but he's now eligible and is a serious candidate for induction into the Hockey Hall of Fame.