CLIFF HAGAN
Basketball
Position: Small Forward
Born: December 9, 1931; Owensboro, Kentucky
Played For: St. Louis Hawks (1956-1966), Dallas Chaparrals (1967-1969)
Cliff Hagan was the piece of the famous trade that included all pro Ed Macauley, that St. Louis Hawks' owner Ben Kerner wouldn't do the deal without! He knew Hagan was a future NBA star and he was exactly right when he passed on the draft rights to Bill Russell in 1955.  Hagan became a fixture in the Hawks' high-scoring front court from 1956-1966.
The good-looking , smooth forward was nicknamed "Little Abner" by beloved Hawks' broadcaster Buddy Blattner and it fit the solidly built frontliner. First projected as a guard by the Hawks, an injury to superstar Bob Pettit forced Hagan to play as a forward, and once in the lineup, he would never be removed.
Hagan could score in lots of ways. His-15 foot jumper was deadly, his driving, twisting reverse layups were exciting and his remarkable running hook shots were unstoppable. He was a scoring machine who could light up the opposition and ignite the crowd.  Lil' Abner was particularly tough in the playoffs.
Hagan was "money" for the Hawks in big games.  His lifetime scoring average in the regular season was a solid 18 points per game, a good total with the likes of Pettit getting his share in the high 20's.  But in the playoffs, he averaged 20 points and eight rebounds per game, often leading the way offensively.
In the 1957-58 championship season, Hagan's first full season as a starter, he scored 305 points in the playoffs, shooting a whopping 50 percent from the field averaging 27.7 points per  game!  Pettit averaged 24 and Slater Martin, the All-Pro guard had 11 per game.  Hagan would get points off fast breaks, but he would also led the team in assists as many plays were set up for Pettit to shoot. "I don't know why I excelled in the post-season, although it might have been because you would play the same players night after night, and if you had his number, you could just keep it going," recalls Hagan.
Defensively Hagan also did more than hold his own.  He regularly guarded the other team's leading scorer such as Los Angeles Lakers' superstar Elgin Baylor.  They would battle all night.  Even to this day he remembers the unbelievable moves going to the basket that the Lakers' star possessed.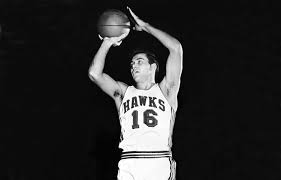 Hagan and Pettit were an unstoppable duo.  In the championship season, Hagan entered the "Select Circle" of NBA scorers by putting up 40 points on three different occasions and 41 on another.
Hagan appeared in five NBA All-Star games and twice was named Second Team All-Pro. In 10 NBA seasons, he scored 13,447 points in 746 games for that 18 points per game average.  He then continued his career in the new American Basketball Association with the Dallas Chaparrels owned by Max Williams and his associates. Hired as the player coach, he impressed his new town pouring in 40 points in his very first game. He earned a spot on the first ABA All-Star Team, thus making him the first player in history to play in both an NBA and ABA All-Star game.
Hagan retired a player at the start of the 1969-70 season to concentrate on coaching.  He did retire during the season, leaving a mark of 94 games played, 1,423 points scored and a 15 points per game average.
Hagan became the first University of Kentucky player in history to be inducted into the Basketball Hall of Fame in 1978, and he would later return as the athletic director of the Kentucky Wildcats of the Southeastern Conference, where his career began.