CAROL (HANKS) AUCAMP
TENNIS
Born: April 2, 1943; St. Louis, Missouri
Tournaments Won:
Singles: Cincinnati Masters (1960), US Harcourt Singles (1962), US Indoor Singles (1963)
Doubles: US Indoor Doubles with Nancy O'Connell (1958), US Indoor Doubles with Mary Ann Eisel (1963, 1964, 1965)

During the early 1960s, Carol Hanks Aucamp could be found on nearly every national tennis ranking chart. By 1964, she had climbed as high as fifth in the lady's singles tennis rankings in the United States and 9th in the world ratings. She was also a standout while playing doubles and mixed doubles competition.
She won the NCAA doubles championship when she attended Stanford University, and went on to win the U.S. Indoor Singles title in 1963, the U.S. Indoor doubles title (with Mary Ann Eisel) in '63, '64 and '65, the U.S. Hardcourt Singles title  in 1962, and the Cincinnati singles title in 1960. She also was a singles finalist in Cincinnati in 1959.
Carol was already on the fast track to tennis stardom by the time she went to John Burroughs School in St. Louis. By age 13, she had won both the 13 and 15 age groups at the Missouri Valley Championships. At the age of 15, she defeated Billy Jean King in the quarterfinals of the National 15s and a few weeks later reached the finals of the National 18s.
At age 18, she teamed with Justina Bricka (University City High School) to become the first two St. Louis women to compete at Wimbledon. "That was a great experience and it won us a lot of respect over the ensuing years," she said. "But I played poorly and lost in the first round to a player we never heard of. "But disappointment like these motivated me to reconsider my priorities. I decided it was time to make following Jesus my first priority – way ahead of pursuing success at tennis."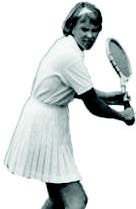 Still, tennis was high on Carol's agenda. By the time she was 21, she was making history again. She was invited to team with Arthur Ashe in the mixed doubles competition making them the first interracial team to perform together at Wimbledon.
"Since we knew each other from our senior year in high school (Ashe went to Sumner High), it seemed perfectly normal for us to team up," Carol said. "It was decades before I learned how meaningful that was to some black players."
In 1964, she reached the semifinals of the U.S. Open and teamed with Bricka to place second in doubles. Aucamp says her most satisfying victory may have come in 1976 when Bill Heinbecker, a friend and former Notre Dame University star, teamed to win the Kodel Cup, a national mixed double event, which qualified them for a spot in the mixed doubles draw of the U.S. Open.
Carol says she benefited greatly from the tennis atmosphere in St. Louis as she grew up. "St. Louis was one of the best tennis towns during my era," she said. "We were blessed with many top players … and played at the Armory, which was a wonderful facility. We played with better players, who served as role models and were willing to play with us youngsters." She also felt she had an excellent coach in Larry Miller, who she said was not only an excellent coach, but who was "caring and dedicated to her game."
Aucamp has been honored to be selected to the Stanford Athletic HOF, the St. Louis Tennis HOF, the Washington U. Sports HOF and the Missouri Valley Tennis HOF. She was also selected as one of St. Louis' 100 Best Athletes of
the Century.
She is married to Donald Aucamp.