CAROL FROMUTH
GOLF
Position: Coach
Born: December 22, 1936; Akron, Ohio
Coached At: Lafayette High School (1977-1993), St. Joseph's Academy (1997-Present)

Carol Fromuth and family moved to St. Louis from Omaha, Nebraska in 1971. When they moved, the criteria for location was (1) close to a golf course (Forest Hills), (2) Rockwood school district, and (3) privacy so our six bassets would not disturb anyone.
Carol's coaching career began in 1977 as JV girls' basketball coach at Lafayette High School. In 1982, she became the girls' varsity coach. She became the boys' varsity golf coach in 1982 and in 1984 started the girl's golf team. In 1997, Carol Fromuth received the best phone call ever. It came from Micaela Witcher, athletic director at St. Joseph's Academy, offering Carol the golf coaching position at St. Joe. WOW! It was a life-changer for her.
Her husband, Jim, was an avid golfer. Both children, Michael and Susan, were introduced to swinging a club as soon as they could stand and walk. As time progressed, she ranked #4 in our family golf ability. Both Mike and Susan earned college golf scholarships to Indiana University and The Ohio State University. Both chose golfing careers: Michael is a PGA teaching pro and Susan is an LPGA teaching pro and evaluator.
Being the competitor she is, Carol became a national rules official for NCAA D-I championship tournaments for twelve years, administrated junior golf tournaments, she still serves on a few national golf committees, including the USGA Junior Girls' Committee and the Ladies Nation Golf Association.
Carol also had the privilege of being the Junior Golf Director for the Gateway PGA section for ten years which involved conducting over 100 tournaments for ages 5-19 (1000 golfers) every summer. Her latest endeavor is the "Accelerated Golf Tour" for the collegiate and the advanced high school golfer. She's been doing that for the past eleven years. Steve Spray, Dick Shaiper, and Jim Niederkorn were my very first professional advisors for the tour. Pat Will,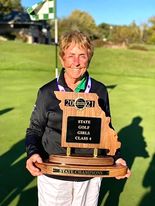 Nancy Sebastian, and Marcella Rose are active, loyal workers for the tour.
Carol Fromuth says that being recognized by the St. Louis Sorts Hall of Fame is certainly an honor for doing something I love—Coaching.  Just to be recognized for my passion for golf is rewarding. The success of the last six years must be credited to the girls devotion to each other and they truly want their teammates to do well every match and tournament.  They are truly a team.
She feels fortunate to work with boys and girls who want to play golf and want to practice to get better. Her father-in-law always expressed his love of golf by saying: "I get to play golf" rather than I have" to go play golf".
At the SJA banquet at the end of the girls season, an award is presented to the girl that exemplifies his words. We call the plaque the "Granddaddy Award". The award was started by Meredith Winkleman, a freshman golfer my first year at SJA, four years later she played for KU and is now Asst. Executive Director for South Florida PGA section. The award is NOT always given and NOT always given to the best golfer.
Carol Fromuth has kept in contact with her former golf team members over the years and enjoys getting news about them. In turn, they keep up with the progress and success of the golf program. They are very proud of being part of the tradition of SJA golf.