1958 BUDWEISER BOWLING TEAM
"CHAMPIONS AWARD"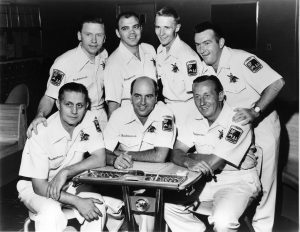 March 12, 1958 is a date that will forever be remembered in the annals of bowling. On that date, The Budweiser team of St. Louis – featuring
future ABC Hall of Famers Ray Bluth, Don Carter, Tom Hennessey, Pat Patterson and Dick Weber – rolled an ABC record 3,858 series in Masters League play at Florissant Lanes in north St. Louis. The performance shattered a league record that had stood for 21 years. The mark broke the previous record by 61 pins set in 1937 by another St. Louis team, the Hermann Undertakers. The 3,858 total averages out to more than 771 pins per man, or 257 per game for 15 games. It was a record that stood for an incredible 35 years and 11 months before it was broken.
During the record series, the Budweiser quintet, considered the equivalent of the 1927 New York Yankees, rolled 138 strikes in 150 frames. "Whenever we got on lanes 7 and 8, we always figured we had a shot at breaking the record," Hennessey said. "We shot over 3,700 a couple of times on that pair." It was the favorite pair of lanes for each of the bowlers. Lane 8 hooked considerably more than lane 7. On lane 7, they had to play a tight line to the pocket.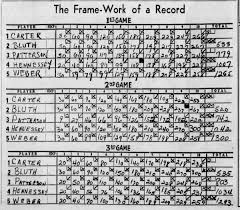 Bluth, rolling 33 of a possible 36 strikes, led the way with an 834 series. He had spares in the eighth and ninth frames of the first game and then reeled off 11 consecutive strikes before leaving the 8-10 pins standing in the ninth frame of his second game. Bluth finished the night with 15 straight strikes, bowling a perfect 300 in the final game after a pair of 267's.
Hennessey also rolled a 300 in the second game. He strung together 18 consecutive strikes beginning with the first frame of his second game. His perfect game was sandwiched between a 228 and 231, giving him a 759 series. Weber missed a triplicate by one pin. He had a pair of 258's before striking out in the final frame of the third game for a 259. He finished with a 775 series. Carter rolled games of 266, 253 and 235 for a 754 series, while Patterson, who passed away in 1972, shot 736 with game s of 246, 222 and 268.
It was on that one joyous night, the Buds created a Mount Everest that bowlers weren't unable to scale until nearly 36 years later.