ROBERT "BUDDY" BLATTNER
President's Choice Award
"Buddy" Blattner was the radio voice of the NBA's St. Louis Hawks in the 1950s. A longtime baseball broadcaster, and former world champion table tennis player, Blattner was chosen for the first President's Choice Award for Special Achievement.
Blattner went to Beaumont High School, where he was a gifted athlete. At age 15, he won the St. Louis and Missouri state table tennis championships. At 16 and 17, he traveled to Czechoslovakia and Austria with the U.S. team, winning a world doubles title. He also was an accomplished tennis player and continued to win championships into his 80s.
He began his baseball career with the Cardinals in 1942, then missed the next three seasons while serving in the Navy. He returned to baseball as the second baseman for the New York Giants in 1946 and had his best season, hitting .255 with 11 homers. He spent two more seasons in New York before finishing his career with the Phillies in 1949. He hit .247 in 713 career atbats.
However, Blattner's greatest success came as a broadcaster, where he was one of the first athletes to go from the field to the booth. He partnered first with Dizzy Dean on the radio, calling St. Louis Browns games in the 1950s, doing play-by-play on nationally televised games for ABC in 1953 and 1954, and for CBS from 1955 through 1959. He also spent one season broadcasting Cardinals games alongside Harry Caray in 1960.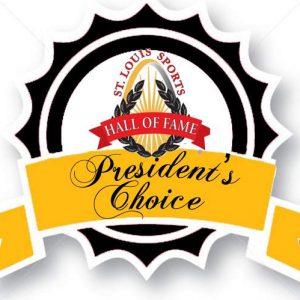 Blattner was the straight man and translator for Dean's extremely colorful commentary. "People liked (Dean) giving everything but the score, but they wanted me to restore sanity," Blattner said. Blattner, however, endeared himself to St. Louis fans most as the voice of the Hawks. He gave the players nicknames — Cliff Hagan was Lil Abner — and was recognized for his signature call after a foul, saying, "They're walking the right way!" or "They're walking the wrong way!"
"He was instrumental as far as being a major part of the St. Louis Hawks in that era," said Al Ferrari, who played for the Hawks from 1955 to 1962. "Things were going so well and he was every bit as important as any of the players, primarily with his nicknames. He made a love affair with the fans and players from behind the microphone."
Blattner also broadcast Los Angeles/California Angels games from 1962-1968 and was one of the original broadcasters for the Kansas City Royals when they entered the A.L. in 1969. He stayed with them through 1975.
Blattner, however, was perhaps most proud of the Buddy Fund, a charitable organization he founded in 1962, after he retired from the broadcasting booth. The group donates sports equipment to disabled and underprivileged children in the St. Louis area. "He felt that sports can be a big part of a child's life," said Charley Young, his son-in-law, who runs the Buddy Fund. "He felt sports had done that for him and really made his life a wonderful life."
Blattner is enshrined in the U.S. Table Tennis Association Hall of Fame and the Missouri Sports Hall of Fame. He died of complications of lung cancer on Sept. 4, 2009 at age 89.