BRYAN COX
FOOTBALL

Position: Linebacker
Born: February 17, 1968; East St. Louis, Illinois
Played For: Miami Dolphins (1991-1995), Chicago Bears (1996-1997), New York Jets (1998-2000), New England Patriots (2001), New Orleans Saints (2002)
Bryan Keith Cox grew up loving football — a passion he has carried to this day. A member of the vaunted East St. Louis Flyers High School and Western Illinois University football teams, he continued showing his football acumen as a player and coach in the National Football League.
After a standout performance with the Flyers, Cox was a four-year letterman and a two-year starter for Western Illinois. As a sophomore, Cox played in every game, and finished the season with 54 tackles, four forced fumbles, three fumble recoveries, two interceptions and three blocked kicks. He was named the team's Most Valuable Player in his junior season ans by his senior year, he was named a first-team All-America selection by the Football Gazette and was a first-team all-conference selection.
Cox was drafted by the Dolphins in the fifth round of the 1991 NFL draft and as a rookie started 13 games at right outside linebacker, racking up 61 tackles along with two sacks. In his sophomore campaign, Cox blossomed and helped lead the Dolphins to an 11-5 record and the AFC  Championship Game. He made his first Pro Bowl and was named to the All Pro team after recording 127 tackles, 14 sacks and five forced fumbles.
Miami switched to a 4-3 defense in 1993 and Cox was moved to right linebacker. The team started out 9-2, but lost their last five to miss the playoffs. Cox again led the team with 122 tackles, four forced fumbles and four fumble recoveries. He also collected five sacks and an interception.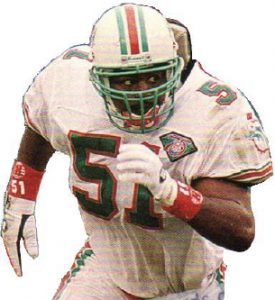 Cox earned his second Pro Bowl selection in 1994, starting 16 games at middle linebacker, leading the team with 100 tackles. Miami finished the season 10-6, winning the Wild Card Game against the Kansas City Chiefs. In 1995, Cox was selected to his second consecutive Pro Bowl, and third overall. He again started every game at middle linebacker, finishing the year with a team high 119 tackles, 7.5 sacks  and three forced fumbles. The Dolphins went 9-7 before bowing out in the Wild Card Game. The defense tied for the AFC lead by allowing only seven rushing touchdowns.
Cox would go on to play seven more seasons in the NFL for the Chicago Bears, New York Jets, New England Patriots and New Orleans Saints. In a career encompassing 165 games, Cox recorded 764 tackles, tallied 51.5 quarterback sacks, caught four interceptions and forced 22 fumbles.
Among his most famous plays was a 27-yard interception return touchdown against the Patriots in September 1999 while playing with the Jets. In all, he was a 3-time Pro Bowl selection and won Super Bowl XXXVI with the New England Patriots.
Throughout his NFL career, Cox was easily recognizable on the field due to the unusual headrest – or "surfboard"- style neck roll he wore and colored to match his uniform jersey.
After his playing career, Cox became a line coach for the Jets and Cleveland Browns, an pass-rush coach for Miami and defensive line coach for
both the Tampa Bay Buccaneers and the Atlanta Falcons.