BILL DEWITT III
"August A. Busch Jr. Award"
Since March 2008, Bill DeWitt III has been President of the St. Louis Cardinals, overseeing all aspects of the team's business and its affiliated entities, which include the team's minor league affiliates. He also helped in the development of Ballpark Village, the 100,000 square-foot retail/entertainment project adjacent to Busch Stadium.
Prior to his appointment as team President, DeWitt was Sr. Vice President of Business Development with the Cardinals and oversaw the design and construction of the new Busch Stadium. Prior to that, he was involved in several merchandising, marketing, and operational projects for the team. DeWitt was also involved in the planning for Roger Dean Stadium in Jupiter, Florida, the Cardinals spring training headquarters and is host to their Florida State League team, the Palm
Beach Cardinals.
DeWitt, 48 graduated cum laude from the Taft School in 1986 and went on to graduate cum laude from Yale University in 1990. He then served as an assistant to William Reilly, head of the U.S. Environmental Protection Agency in Washington D.C. for three years. He then attended Harvard Business School, earning his MBA in 1995.
DeWitt is chairman of the Board of Cardinals Care and also sits on the boards of Big Brothers Big Sisters of Eastern Missouri (recent board chair), the St. Louis Sports Commission, the RCGA and City Arch River. He was formerly a trustee of the Taft School in Watertown, Conn., and board chair for Emergency Children's Home (ECHO) in St. Louis.
Being affiliated with baseball has been second nature – or third generation – for DeWitt, whose grandfather worked his way up to vice president/treasurer of the Cardinals in the 1930s and eventually to owner of the old St. Louis Browns. His Dad, Bill DeWitt Jr., was a batboy for the Browns. But the DeWitts moved to Cincinnati when DeWitt Sr. purchased the Cincinnati Reds in the early '60s. That's where Bill DeWitt III was raised, but he always had close family ties in St. Louis. That's why it was like coming home when his father led the group that purchased the C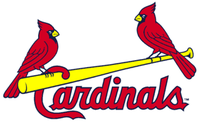 ardinals from Anheuser-Busch in 1996.
DeWitt III jumped right into the business of baseball and has planted his own deep roots in St. Louis. He and his wife, Ira, are raising their two children, Natalie, 17, and Will, 14, in St. Louis. In addition, DeWitt is a huge hockey fan and has embraced the marketing partnership between the Cardinals and Blues. Bill skates twice a week with the St. Louis Blues Alumni and holds his own on the ice. And he's more than held his own in the Cardinals' front office, embracing every challenge that has come his way.