BILL BRADLEY
Basketball
Position: Small Forward
Born: July 28, 1943; Crystal City, Missouri
Played For: New York Knicks (1967-1977)

An alum of Princeton University, a Rhodes Scholar at Oxford University, a three-term United States Senator from New Jersey and a 2000 presidential candidate—sound much like the credentials of a Hall of Fame basketball player from tiny Crystal City, Mo.?  Of course not and that's what makes Bill Bradley so special.
Basketball success came first to this former metro area star.  Bradley was All-County and All-State in basketball at Crystal City High School.   He was twice named a High School All-American. After receiving 75 scholarship offers first accepting and then turning down Duke in 1961, he thought his long range future to be more important and enrolled without a scholarship from fabled Princeton University in the Ivy League.
His four years were filled with unbridled achievements.  As a freshman he averaged 30 points per game and once made 57 straight free throws.  He started the next three seasons averaging 30 points per game with 2,503 points, earning the James E. Sullivan Award in 1965 as the nation's top amateur athlete.
Still today Bradley holds many records.  His career scoring mark at Princeton still stands, and he holds the top 10 positions for total points scored in a single game.  His total and average points, his free throws attempted and made are tops in the Ivy League annals today.
Yet Bradley was known as an unselfish player almost to an extreme.  The great Princeton Head Coach Butch van Breda Kolff often said "Bradley would always look for the pass first and sometimes give up a clean shot to pass to an inferior shooter closer to the basket".
As a sophomore, Bradley was elected to the Second Team All-American and then made first team as a junior.  He was the Sporting News College Player of the Year as a junior, and it was the coach of the St. Louis Hawks who said he was ready for the NBA as a college junior.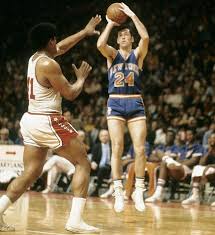 In April, 1964, he earned a spot on the United States Olympic   He was a unanimous pick by the selection group, and the team would go on to win the U.S. team's sixth straight gold medal.
Drafted by the New York Knicks as a territorial pick in 1965, he instead chose to attend Oxford University first.  There he played in the  in the Air Force Reserves followed by a graduation from Oxford led to his joining the Knicks in December 1967.
As a pro in the NBA, Bradley earned his fame by becoming a great all around player, not just a scorer.  In fact his scoring went down substantially compared to college, but his assists, rebounding, defense and overall consistency made him a star.
The Knicks have won two NBA championships in their many years of existence and both times Bill Bradley was in the lineup.  He made a lot happen in a 10-year career playing with the likes of superstars Willis Reed, Walt Frazier, and Dave DeBusschere.  The titles came in 1970 and 1973.
Bill has one vivid memory from that 1970 championship season in New York, a four games to three victory over the mighty Los Angeles Lakers with Elgin Baylor and Jerry West.   When asked a few years ago he commented.
"What I remember most is the fifth game against Los Angeles when Willis Reed fell and hurt his leg.  We went into the locker room and redesigned our whole offense.  We ran a zone offense against the Lakers even though they were playing man-to-man defense.  We won the fifth game. We couldn't have won the series without that."
The Knicks snatched him away from the St. Louis Hawks back in 1965 due to the territorial draft rule which went away.  During his collegiate years, the Princeton Tigers made trip into St. Louis to play Washington University at the old Fieldhouse so Bill could be seen by the hometown fans.  Princeton won easily and Bradley poured in 37 points.
His outstanding play was recognized by both the team and league.  In 1982 William Warren "Bill" Bradley was inducted in the Basketball Hall of Fame in Springfield, Mass.  Two years later, his jersey number 24 was retired by the New York Knicks.
The quality of the man continued to appear well after his basketball days.  Besides all the remarkable years of public service, Bill also turned down the opportunity to be the Chairman of the United States Olympic Committee in 2000, and as a player, Bradley was always uncomfortable accepting money for celebrity endorsements.
The St. Louis Sports Hall of Fame is proud to welcome home native son Bill Bradley as the newest member of the Hall of Fame.