BERNIE FEDERKO
Hockey
Position: Center
Born: May 12, 1956, Foam Lake, Saskatchewan, Canada
Played For: St. Louis Blues (1976-1989), Detroit Red Wings (1989-1990)

Bernie Federko was one of the greatest players to play in the National Hockey League, only not everyone knows it. Federko recorded 11 straight 20-goal seasons and four 100-point seasons in his illustrious NHL career. He became the first NHL player to have 50 assists in 10 straight seasons. Thirteen of his 14 seasons were in St. Louis, where many considered him the greatest Blue ever. When he was traded to Detroit late in his career, he was the Blues' all-time leader in seasons, games played, goals, assists and points.
Yet, recognition was hard to come by for the native of Foam Lake, Saskatchewan. Being overshadowed by some of the NHL's greatest offensive forces (Federko played in an era of 150-point scorers such as Wayne Gretzky, Mario Lemieux, Mike Bossy, Jari Kurri and Steve Yzerman), Federko's skill was often overlooked by those outside St. Louis. Another reason Federko was overlooked was that his team never came close to accomplishing much in the playoffs like the Oilers or Islanders did. Also working against him, was the fact that St. Louis was a small-market team.
Federko was one of the game's best play-makers in the late 1970s and throughout the 1980s. His outstanding hockey sense and anticipation combined with his soft hands placed him among the league's elite play-makers. Unselfish is probably the best word to describe Federko, although underrated also comes to mind. The Great Gretzky popu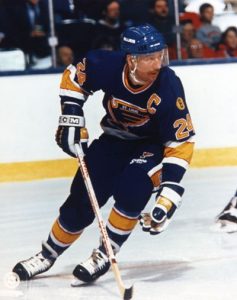 larized using the area behind the net to set up plays, but Federko was also adept in that area, and actually used it to his advantage earlier than Gretzky did.
Federko wasn't known for his skating and was of average size, but his great balance made him hard to knock off the puck. This trait also enabled him to excel in traffic. Federko was also an underrated goal-scorer. He was a consistent 30-goal threat during his prime. He peaked at 41 goals in 1983-84 and scored more than 20 in 11 consecutive seasons. His wrist shot was particularly deadly.
Federko's career began with the Western Hockey League's Saskatoon Blades, where he enjoyed three stellar seasons. In his final campaign with the Blades, 1975-76, Federko recorded 72 goals and 187 points in 72 games. In total, Bernie scored 133 goals and 211 assists for 344 points in just 206 games. Those numbers earned Federko the seventh overall selection by the Blues in the 1976 NHL Entry Draft.
After starting the year with the Blues' farm team in Kansas City, Bernie debuted with St. Louis in 1976-77, playing 31 regular season games and notching 23 points. Federko went on to play 12 full seasons with the Blues. He posted seven 30-goal seasons and had nine seasons with at least 80 points, including a career-best 107 points in 1983-84. In 1989, after 13 years as a linchpin in St. Louis, Bernie was traded to the Detroit Red Wings. He played just one season in Detroit, scoring 17 goals and 57 points in 73 games. It was a tough year for Federko. One of the few highlights for Federko in Detroit was playing in his 1000th career NHL game, which also happened to be his final professional game.
Upon retiring from the NHL in 1990, Federko had recorded 369 goals, 761 assists and 1,130 points in 1,000 regular season games. He was also a prolific and consistent playoff performer, scoring 101 points in 91 post-season contests. Bernie also played in the 1980 and 1981 NHL All-Star Games.
After retiring, Federko returned to St. Louis, where he has become a fixture on Blues broadcasts and is very active in the community. The Blues honored Federko by retiring his No. 24, which hangs from the rafters of the Scottrade Center. Federko received a long-overdue and well-deserved accolade when he was inducted into the Hockey Hall of Fame in 2002.