AUGUST A. BUSCH, JR.
Media
Born: March 28, 1899; St. Louis, Missouri
Died: September 29, 1989; St. Louis, Missouri
Owner: St. Louis Cardinals (1953-1989)
Born in St. Louis on March 28, 1899, August Gussie" Anheuser Busch, Jr. led Anheuser-Busch from 1946 to 1975, presiding over an era of growth and success for the brewery.
He was president of the St. Louis Cardinals from 1953 until his death in 1989, during Anheuser-Busch's ownership of the club. Gussie was a regular at Cardinals home games, and on special occasions would circle the field riding the iconic Budweiser wagon, pulled by the world-famous Budweiser Clydesdales. The Budweiser Clydesdales continue the tradition today by making appearances at Busch Stadium for Opening Day, playoff games and other events.
Following Anheuser-Busch's purchase of the St. Louis Cardinals, Gussie and other civic, community and business leaders created the Civic Center Redevelopment Corporation, a not-for-profit organization that developed a 34-block area with the new ballpark as its anchor property. Ground broke on Busch Stadium II on May 24, 1964 and the stadium opened on May 12, 1966. Under Anheuser-Busch's ownership, the Cardinals were one of the most successful teams in baseball, winning the World Series in 1964, 1967 and 1982, and winning National League pennants in 1964, 1967, 1968, 1982, 1985 and 1987.
The number 85 was retired by the St. Louis Cardinals in honor of Gussie Busch in 1984, his age at the time.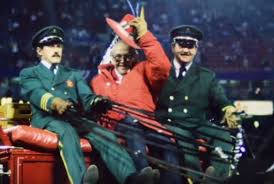 Gussie's success with the Cardinals mirrored his success at the brewery. Like his grandfather, company founder Adolphus Busch, Gussie had a keen eye for marketing. On April 7, 1933, Gussie and his brother, Adolphus Busch III, surprised their father with the gift of a Clydesdale hitch to commemorate the repeal of Prohibition. Realizing the potential of a horse-drawn beer wagon, they arranged to have a second Clydesdale hitch sent to New York on April 7 to mark the event. In addition, the famous Budweiser bow tie was introduced under his guidance, and it became a brand icon. He was also the first brewer to sponsor a national television show.
Following World War II, Gussie set out to develop a national system of beer production to reduce shipping costs of products. In 1951, he opened the first regional brewery in Newark, N.J. During his tenure, eight additional breweries were opened. Gussie vertically integrated the company with the establishment of Metal Container Corporation to provide the company with a high-quality and consistent supply of cans. When Anheuser-Busch's leadership role in the U.S. brewing industry temporarily faltered in 1956, Gussie spent a year traveling all over the country by rail to visit every Anheuser-Busch wholesaler.
In 1957, Anheuser-Busch regained its leadership position and hasn't relinquished it since.