AENEAS WILLIAMS
Football
Born: January 29, 1968, New Orleans, LA
Position: Defensive Back
Played For: Arizona Cardinals (1991-2000), St. Louis Rams (2001-04)
(By Dennis Dillon)
A lot of running backs and receivers have spent their entire NFL careers touching the football fewer times than defensive back Aeneas Williams, whose regular-season 55 interceptions and 23 fumble recoveries highlighted a resume that earned him enshrinement in the Pro Football Hall of Fame this year.
A cornerback and safety for 14 seasons—10 with the Arizona Cardinals and four with the St. Louis Rams—Williams scored 12 defensive touchdowns (nine on interceptions and three on fumble recoveries) and also returned a blocked field goal for a TD. He finished with 1,075 defensive return yards (807 on interceptions and 268 on fumbles). Not bad for a guy who received no athletic scholarship offers after high school and didn't play college football until his junior year.
Born in New Orleans, where he played sports at Fortier High School, Williams went to Southern University for academic reasons. Awarded a spot on the football team as a junior, he intercepted seven passes. He was even more impressive as a senior, when he picked off 11 enemy passes, tying for the NCAA Division 1-AA lead.
The Cardinals drafted Williams in the third round in 1991, and he quickly confirmed his reputation as a ball hawk. He tied for the NFC lead with six interceptions as a rookie and was named NFC Defensive Rookie of the Year by the NFL Players Association; he tied for the league lead with nine picks in 1994, and he returned a fumble 104 yards (tying a league record) in 2000. Although he played on a team that had only one winning season in his 10 years in Arizona, Williams was selected to six Pro Bowls as a Cardinal. On draft day in 2001, he was traded to the Rams and was switched to free safety two years later.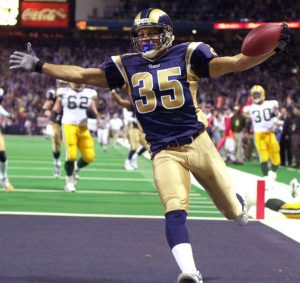 Williams was nothing if not durable. He played in all 160 regular-season games during his 10 seasons in Arizona, starting every game but one. In 2002, his second season with the Rams, a broken fibula snapped his streak of 183 consecutive games and 180 starts. He finished his NFL career in 2004, having played in 211 regular-season games with 207 starts.
Williams was a prolific player in the postseason despite receiving limited chances. After the 1998 season, he helped the Cardinals win their first playoff game since their 1947 NFL championship when he intercepted Dallas quarterback Troy Aikman twice in a 20-7 wild-card game victory. His assignment in that game was to cover Michael Irvin, following the Cowboys wide receiver everywhere he went.
"If (Irvin) went to the restroom, I had to flush it," Williams recalled during his Hall of Fame induction speech in Canton, Ohio on Aug. 3. Although the Cardinals lost the following week to Minnesota in a divisional-round game, Williams had another interception.
In San Francisco, Williams is remembered—albeit not fondly—as the player who essentially ended quarterback Steve Young's career. In a Week 3 game in 1999, Williams came on a corner blitz from Young's blind side—running back Lawrence Phillips failed to pick him up—and delivered a violent but legal hit that resulted in Young suffering a concussion. Young did not play the rest of the season and retired after that year.
Playing in the postseason for only the second time after the 2001 season, Williams helped lead the Rams to Super Bowl XXXVI. In a divisional-round victory over Green Bay, he returned two interceptions of Brett Favre for touchdowns and also recovered a fumble. Then, in the NFC championship game against Philadelphia, Williams snared a Donovan McNabb pass in the final two minutes to secure a 29-24 Rams win.
His Hall of Fame induction capped a long list of honors for Williams. He was inducted into the Cardinals' Ring of Honor in November 2008, named to the St. Louis Rams' 10th anniversary team, and selected to the NFL's 1990s All-Decade team.
Williams now resides in St. Louis with his wife, Tracy, and their four children. He is the founding pastor of Spirit Church in Ferguson.